CPPCC ends with vow of further political reform
By Bao Daozu (China Daily)
Updated: 2008-03-15 08:52
The National Committee of the CPPCC, China's top advisory body, on Friday pledged to push ahead with political consultation in decision-making processes and facilitate political reform.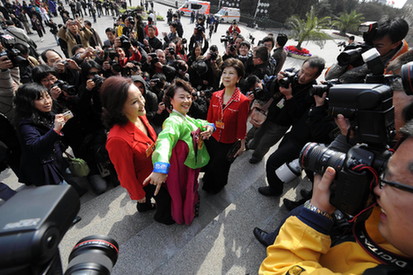 CPPCC member Li Chengshu (C) dances around fellow member Zheng Mingming after the top advisory body's national committee concluded its first session in Beijing on Friday. [China Daily]
It also promised to help upgrade a democratic supervision mechanism and improve the advisory body's participation in the administration of State affairs, according to a resolution adopted at the closing of the first session of the 11th CPPCC National Committee.
Jia Qinglin, who was re-elected chairman of the committee, presided over the closing meeting.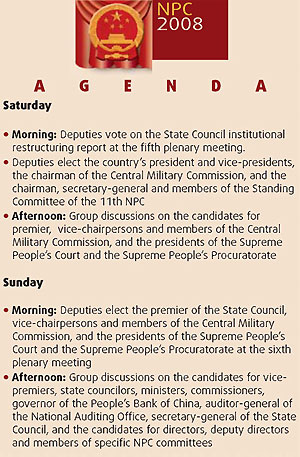 He urged political advisors to adhere to the two main themes of unity and democracy, and "unite all forces that can be united" to contribute to the building of a moderately prosperous society in all respects.
The resolution calls on CPPCC members to put forward more proposals on macro-regulations, agriculture and people's livelihoods, the State Council institutional restructuring plan and other issues.
The members endorsed a number of documents, including the government work report delivered by Premier Wen Jiabao on March 5 at the opening of the NPC annual session.
The resolution reiterated opposition to attempts by Taiwan secessionists to split the island from the mainland.
The top advisory body will help promote cross-Straits economic and cultural exchanges, and negotiations on the three direct links in mail service, transport and trade, it said.
CPPCC member Jiang Xiaoyu, executive vice-president of the Beijing Olympic organizing committee, said: "The session has elected a new leading body with both continuity and a number of new faces who are young and capable."
During this year's session, which began on March 3, members raised 4,772 proposals, including 509 on agriculture, 389 on medical matters and healthcare, 310 on education and others on employment, social security, housing, environment protection, food and drug security.