Greater role ahead for parties
(China Daily)
Updated: 2008-03-07 08:06
The eight Chinese non-Communist parties on Thursday pledged to further cooperate with the Communist Party of China (CPC) and carry out fully their roles to promote democracy in the country.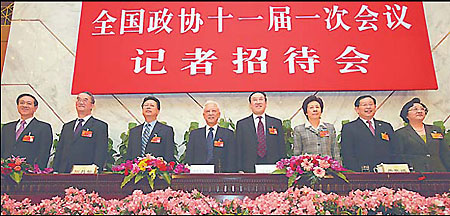 The eight non-Communist party leaders attend a press conference Thursday. [China Daily]
"Political consultation has always been an important part of Chinese characteristics to achieve socialist democracy," Zhou Tienong, chairman of the Revolutionary Committee of Chinese Kuomintang, told a press conference yesterday in Beijing.
The conference was a major segment of the ongoing first session of the 11th National Committee of the CPPCC, China's top political advisory body.
"My experience is that the CPC is very sincere and pays great attention to political consultation with the participating democratic parties," Zhou said.
The democratic parties can consult within the CPPCC committees or discuss directly with the central government leaders. They can also make written proposals to relevant government departments.
"We are also very sincere and attentive in carrying out our participatory and supervisory roles. We raise ideas and suggestions on important issues frankly, with most of them adopted by major government policies," Zhou said.
"Political consultation is an excellent way to achieve democracy in China," he added.
Jiang Shusheng, chairman of the China Democratic League, echoed Zhou's remarks.
Jiang vowed to increase the league's efforts to put people's fundamental interests as its work objective, and help to push national scientific development and social harmony.
To date, the league has 181,000 members, the most number among all the eight democratic parties.
More than 60 percent of its members come from the education sector.
The China National Democratic Construction Association currently has 110,000 members across the country, most of whom are elites from economic circles.
Chen Changzhi, chairman of the association, said it would put economic issues as its focus, including how to save energy and reduce pollution, and reform the financial and taxation system.
More than 31,000 non-Communists nationwide are working as officials at and above county level, with at least 6,000 working at government organizations and judicial bodies at various levels.