Farmer takes his green case to capital
By Lu Haoting (China Daily)
Updated: 2008-03-06 07:23
Some NPC deputies come with proposals for change and improvement tucked under their arms, while others don colorful ethnic attire showcasing their heritage.
But for farmer Chen Fei, his cause lies in 56 bamboo baskets the 52-year-old lugged all the way from Zheijiang province to the capital.
"I want to send them as gifts to other deputies and ask people to care for the environment," Chen says.
Chen has been promoting the use of environmentally friendly bamboo baskets to replace plastic bags for grocery shopping since 2000, handing out more than 10,000 free baskets to shoppers at food markets.
The farmer has traveled to 19 provincial regions by himself for this green mission.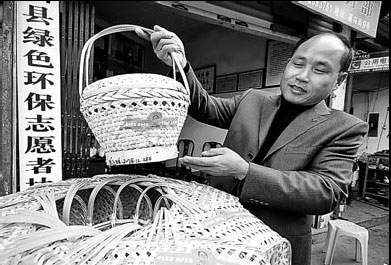 Farmer-cum-environmentalist Chen Fei, from Zhejiang province, shows off the baskets he will give as gifts to his fellow NPC deputies. Photo courtesy of Chen Fei
It is a cause that has recently received validation by the country's Cabinet - the State Council has banned the production, sale and use of ultra-thin plastic bags, to take effect on June 1. Shops will also be forbidden then to provide free plastic bags to customers.
Chen started his quest when he was shocked by the numerous plastic bags stuck on trees along the banks of the Nanxi River near his village. The bags were left from the high-levels of the river in summer, an ugly mark on the scenic spot in the province.
"I must do something to protect our beautiful home from the trash bags," Chen recalled telling himself.
He first tried hawking homemade bamboo baskets at the food market in his village, but not a single one was sold as people could get free plastic bags.
He decided to send out free baskets and believed that people could gradually accept his ideas while getting the free items.
"Many people said my father was crazy. But he is always stubborn and never gives up," Chen's son, Chen Xiangwu, said.
Chen sent one basket to each of the families in his village and 10 to each stall at the local food market. If someone forgot to bring his basket when shopping, he could borrow it from the stall owner.
"It was not difficult because people in our village all know each other," Chen said.
Little by little, Chen gained support from many fellow villagers.
Since 2003, Chen started to expand his campaign to other parts of the country. He usually spends about 40 days during slower periods in the farming season to travel.
His eight-year campaign has cost him more than 100,000 yuan ($14,000), mainly on transport and accommodation, as well as the additional baskets he bought from his fellow villagers at about 10 yuan each.
The money came from his family's savings and also from his son, who works as an accountant for the Aokang Group, a major footwear manufacturer based in the province of Zhejiang.