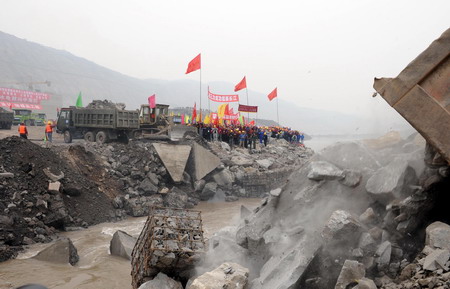 Workers empty out trucks loaded with rocks and stones to block the Jinsha River at Xiangjiaba, bordering Shuifu County of Yunnan province and Yibin County of Sichuan province, southwest China December 28, 2008. The third largest hydropower plant in China, which is expected to be completed by 2015, will be able to generate 30.7 billion kw hours of electricity a year.[Xinhua]
SHUIFU, Yunnan -- The Jinsha River in south China was blocked on Sunday to make way for the construction of a new hydropower project on the upper reaches of the Yangtze River, China's third largest hydroelectric dam project.
At a cost of 43.4 billion yuan (about US$6.3 billion), the Xiangjiaba Hydropower Project is expected to be completed by 2015. It will be able to generate 30.7 billion kw hours of electricity a year.
"Electricity generated by hydropower stations will mainly be sold to China's eastern, southern and central regions," said Li Yong'an, general manager of the China Yangtze River Three Gorges Project Development Corporation. "Sichuan and Yunnan provinces will also benefit from it."
In addition to providing power, the project will play a role in flood control and farmland irrigation.
About 125,100 people from three counties of Yunnan Province and three counties of Sichuan Province have been resettled to make way for the project.
The Xiangjiaba project is one of a series of hydropower plants China plans to build on the Jinsha River to supply electricity to its economically more developed coastal regions.
The 2,290-kilometer-long Jinsha River, a tributary of Yangtze River, originates in Tanggula Range and flows through Qinghai, Tibet, Yunnan, and Sichuan.
Water is mostly stored in the river's middle and lower reaches where China plans to build 12 hydropower stations to share a 59.08-million-kilowatt installed capacity.