The two giant pandas gifted by the mainland to Taiwan seem to like their new home and have become stars on the island.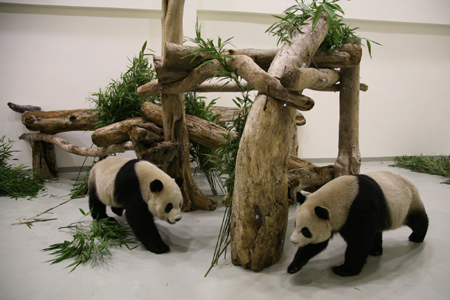 Tuan Tuan and Yuan Yuan, the two giant pandas from Chinese mainland, are seen in the quarantine area at Taipei zoo in Muzha December 23, 2008. The Panda bears from Southwestern Sichuan Province are a goodwill gift from Beijing. [Xinhua] 
Taipei Zoo held a welcoming ceremony yesterday morning for its new residents, the 4-year-olds Tuan Tuan and Yuan Yuan.
The pandas are "getting on well in their new environment" and are in "good physical and psychological condition", zoo spokesman Jason S.C. Chin said.
Related readings:


Taipei zoo welcomes new stars

Panda pair arrive in Taiwan


Taipei zoo keepers get up close
Pandas touch down to rapturous reception
"Last (Tuesday) night, they were quite calm. They woke up around 11 o'clock to eat and went back to sleep close to each other four hours later," he said.
"Tuan Tuan and Yuan Yuan had a good appetite they ate about half of the bamboo brought with them from Sichuan province but seemed quite interested in the food prepared by the zoo, too."
Chin said the zoo would change the menu for the panda pair, reducing the amount of bamboo from the mainland and increasing that from Taiwan. That would help them to adapt to their new home faster.
The pandas were flown to the island from their home in Sichuan. The Taipei Zoo did not hold a welcoming ceremony on Tuesday when the pandas landed on the island because "they were tired after the long journey".
Taipei Mayor Hau Lung-bin assured mainland compatriots that "we will take good care of Tuan Tuan and Yuan Yuan they will have a healthy and happy life here."
Xinhua - Agencies