China reiterated that Chinese terror suspects being held at Guantanamo Bay be repatriated to the country if the US-run military prison is closed under the new administration, Foreign Ministry spokesman Qin Gang said on Tuesday.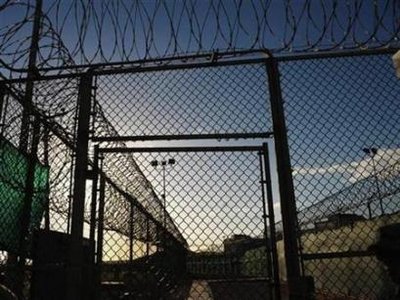 Razorwire-topped fences are seen at the 'Camp Six' detention facility at U.S. Naval Station Guantanamo Bay December 10, 2008, in this image reviewed by the U.S. military. [Agencies] 
"The Chinese government has always called for the early repatriation of Chinese terrorist suspects and firmly opposes any country accepting them," Qin said at a press briefing.
"These terror suspects are members of the Eastern Turkestan Islamic Movement, which has been listed as a terrorist organization by the United Nations," Qin said.
Related readings:


Gitmo commander predicts prison won't close soon

9/11 suspects ask to make 'confessions'

Confessions throw Gitmo 9/11 trials into confusion


Guantanamo policy in hot debate

The Eastern Turkistan Islamic Movement (ETIM) - also known as the East Turkistan Islamic Party, Allah Party or the East Turkistan National Revolution Association - is one of the most dangerous terrorist organizations among "East Turkistan" terrorist forces. It aims to split China to establish a theocratic "Eastern Turkistan Islamic State" in Northwest China's Xinjiang Uygur autonomous region.
The Washington Post reported yesterday that half a dozen European countries are considering resettling detainees from the military prison as a gesture to US President-elect Barack Obama, who will take over on Jan 20. Obama has vowed to shut down the detention facility in Cuba. So far, Germany and Portugal have publicly acknowledged that they are considering resettling the detainees.
"These suspects mean no harm to the US and Germany but that doesn't mean they mean no harm to the world," said Li Wei, director of the anti-terrorism research center at the China Institute of Contemporary International Relations.
"Terrorism is a threat to all countries. There is no way to take effective action except with cooperation," he said.
It will be against German laws if Germany takes over these suspects as prisoners. And if taken as refugees, it will be an offence to China, he said.
"Germany should seriously consider whether or not to take these prisoners, and if so, under what status." Li said.
German Foreign Minister Frank Walter Steinmeier has asked officials to look into the legal, political and practical aspects of accepting former prisoners, ministry spokesman Jens Ploetner said on Monday. Steinmeier plans to discuss the issue with his European Union counterparts at a January meeting.
A US Department of Defense official said last week that the Pentagon was working on a plan to shut the military prison, widely viewed as a stain on America's human rights record. It has held more than 750 captives from around the world since opening in 2002. There are still some 250 prisoners held at Guantanamo, according to the United Nations.