Liaoning Province is feeling the pinch from the unfolding financial crisis, as weakening domestic and overseas demand led to falls in exports, industrial output, and housing sales.
The Northeast China province saw its exports in the first 10 months dropped 3.7 percent from a year earlier, said Wang Xiwen, an official from the provincial Development and Reform Commission at a press conference on Monday.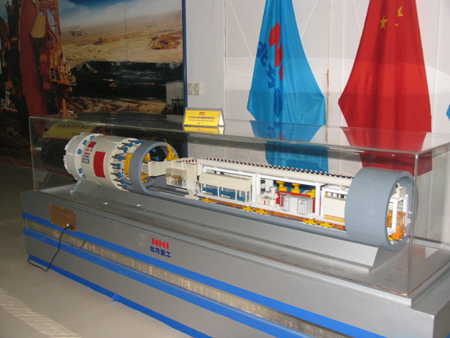 A miniature model of a large-scale underground digger is displayed at the headquarters of Northern Heavy Industries Group in Shenyang, capital of Northeast China's Liaoning province on December 16. [chinadaily.com.cn]
The industrial output in the traditional industrial base also dropped 3.4 percent year-on-year in the January-October period, according to Wang, with the production of steel falling 7.6 percent in October.
Foreign direct investment in the province plunged 40.2 percent from a year earlier, Wang added, reflecting the impact of renminbi appreciation and the credit crunch that hit the global market.
Like in other provinces in the country, real estate sales remained sluggish, making a dent in the provincial coffer, which in turn complicate the local government's efforts to rev up the economy.
Wang was hoping for a boost to his province from the 4 trillion yuan stimulus package announced by the central government, as a fraction of that money will be spent there. "We see the challenges as well as the opportunities," he said.
Despite the current trouble, the economic achievements the province managed to make in the past five years were "big", said Wang.
Its gross domestic product, a key gauge of its economic strength, in 2007 grew more than 80 percent from that in 2003, while its exports averaged an annual growth of 33.4 percent since 2003 to reach US$35.3 billion in 2007.
Up to 90 percent of the State-owned industrial enterprises have undertaken share-holding reforms, paving the way for future development, Wang told reporters.
Tiexi district of Shenyang, an old industrial zone, has been turned into a business and trading center, winning the 2008 Demonstration Prize for the UN Global Best Livable Area Award on December 7.