The owner of a beauty salon in Henan province has been prosecuted for forced trading and tax evasion after his employees charged two college students 6,000 yuan ($875) each for a haircut in March, prosecutors said on Tuesday.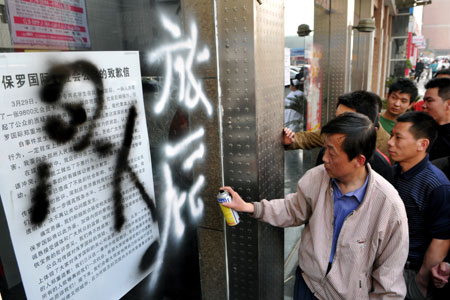 A man paints derogatory words next to a written apology pasted on the Paul International Beauty Salon's window. The salon's staff allegedly charged two college girls 6,000 yuan ($875) each for a haircut in March. [China Daily] 
Su Xiaobin, an official with the Erqi district procuratorate in Zhengzhou, said a case had been filed against Ye Wenjian, the owner of Paul International Beauty Salon.
Liu Yuan, director of the publicity department of the Erqi district people's court, said the court had yet to receive details of the case.
"But we will begin a court session within a month after receiving it," she said.
On March 29, two teenage girls, surnamed Zhang and Yuan, visited the salon and asked for a 38-yuan shampoo and haircut, as advertised on the window.
However, once their hair had been cut, employees presented them with a bill for 12,000 yuan.
They were told their hair had been washed with a "special shampoo" and styled elaborately.
As they were in possession of just 400 yuan, the girls were held hostage until they called their classmates and told them to bring the rest of the money.
The girls later complained to the local government, which suspended the salon's operations on April 3, Zhao Zhengyin, an official with the local industry and commerce bureau, said.
During the subsequent investigation, it was found that Ye had evaded paying 110,000 yuan in taxes between April 2006 and February of this year.
On April 5, the salon, which opened in 2004, was fined 500,000 yuan by the local pricing authority for defrauding customers by failing to publish price lists for its products and services.
"It is the highest fine ever given to a company for cheating its clients," Zhao said.
If convicted, Ye will face a jail term of up to six years, Qiu Baochang, a legal consultant with the China Consumers' Association, said.
"The salon violated the principles of business ethics and fair competition, and that does great harm to society," he said.
Since media reports made the incident public in March, hundreds of people have aired their views online.
"A lot of people think only about making money and never care about work ethics," a woman named Mary wrote on China Daily's website.
"Greed is a serious problem in today's society," she said.