After twice being brought to a standstill over the weekend, the Airport Express rail service is again "operating normally", the Beijing Subway Co said yesterday.
An official with the firm said that "equipment glitch" were to blame for the disruption, which caused delays to some passengers.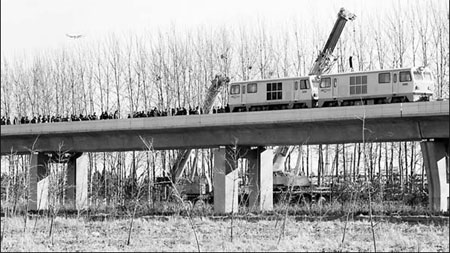 A derailed tool car that halted services on the Airport Express line for almost 10 hours on Saturday is lifted back on track. [China Daily]
"The problems have now been fixed and trains are operating safely and normally," the official, who declined to be named, said.
A tool car was derailed during a routine patrol late on Saturday morning and caused a 10-hour stoppage until it was removed from the tracks, he said.
Then, at around noon on Sunday, a train was forced to stop due to a power cut.
"It took 15 minutes to resume the service after Sunday's power cut," the official said.
A number of passengers traveling to the airport had to take buses and some of them claimed refunds on their subway tickets, the Beijing Times reported yesterday.
The 28-km express line, which opened on July 8, connects downtown Beijing with Capital International Airport.
The journey takes 16 minutes.
"The subway is still in its trial period, and it will take some time before it becomes stable," conductor Ma Jun said.
Mao Baohua, a professor of traffic systems at Beijing Jiaotong University, said a few glitches were to be expected as the line was built under tremendous time pressures.
"The average construction of railway development is about 3 km per year in a developed country, but China achieved 50 km in a year," he said.
"It is not uncommon to have some equipment problems with a new line. It will take at least a year before it starts to run smoothly," Mao said.
Zhan Kun, a passenger who takes the airport express twice a month, said the weekend glitch will not make him change his plans.
"I've been using the airport express since it was launched. I find it quite convenient as it avoids all the traffic jams."