SHENYANG -- A leading Chinese egg exporter said Monday that it will resume the egg exports after a thorough overhaul following the discovery of melamine contamination in chicken feed.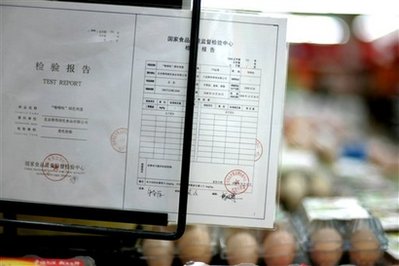 A Chinese test report indicates that eggs on sale at a WalMart branch have passed safety checks for melamine contamination in Beijing Tuesday, Nov. 18, 2008. [Agencies]
Related readings:


 NE China city officials investigate melamine-tainted eggs


 WHO announces tolerable melamine level


 China denies melamine-tainted export flour reports


 Melamine found in US baby milk food
The Dalian Hanwei Chicken Farming Ltd., based in Dalian City in northeast China's Liaoning, suspended its exports after samples of its egg products exported to Hong Kong were found tainted with melamine by the Hong Kong food safety watchdog on October 25.
"We have learned a hard lesson from the scandal. The company has purchased melamine test equipment to avoid such an incident from happening," said Han Wei, president of the company.
A joint investigation of the Chinese Ministry of Agriculture and the city government of Dalian found the tainted eggs in the September 6 batches of the company's egg products. The company had used melamine-tainted feed.
Hanwei immediately changed the feed supplier and lodged a suit against the Xinmin Mingxing Feed Plant, which had a supply agreement with the chicken company on green feed. Han said the company's chicken feed is mainly composed of green crops such as maize.
Under the supervision of quality and customs quarantine authorities, samples of Hanwei's products have been tested melamine-free for a month. The company was allowed to resume its egg exports on Wednesday.
Han said that the company's overseas orders did not fall after the scandal.
The 26-year-old chicken farm has more than 3 million layers in stock. Its production capacity of fresh egg reached 58 million kg a year.