China unveiled its long-awaited plan on fuel tax reform on Friday, hiking the fixed amount of money levied on oil consumption, while phasing out some fees levied on drivers.
The tax on each liter of gasoline will rise from 0.2 yuan to 1 yuan, while that for diesel will jump from 0.1 yuan to 0.8 yuan starting from January 1, 2009, according to a statement jointly issued by four ministries. They are the National Development and Reform Commission (NDRC), the Ministry of Finance, Ministry of Transportation and State Administration of Taxation.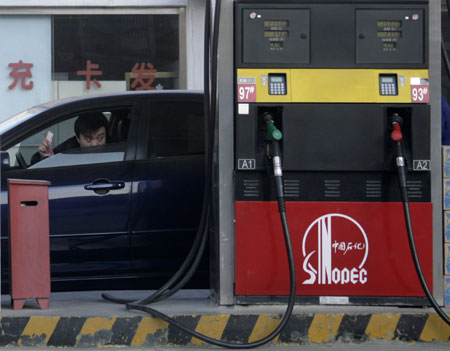 A motorist waits to fill up his car at a gas station in Beijing November 19, 2008.[Xinhua] 
Despite the tax hike, Chinese motorists do not have to pay more for fuel, according to the statement. Analysts said that may mean an actual cut on retail fuel prices before enacting the tax increase. Global crude oil prices have fallen more than 70 percent since peaking in July. But Chinese drivers have not enjoyed the benefits of cheaper oil, as the government-set prices are yet to be reduced.
Related readings:


Retail fuel tax may start from January


China may kick in fuel tax, oil pricing reforms in Jan


Fuel tax unlikely to hike inflation


NDRC: Fuel tax scheme to be made public soon


Views on proposed fuel tax sought
The announced plan put an end to wild guessing games, including speculations that oil consumers will have to pay a fixed percentage of the fuel price as consumption tax. The rumored tax rate ranged from 20 percent to 50 percent, prompting fears among private car-owners that their spending power will be eroded.
As other nations are racing to stimulate spending amid a major global economic slowdown, Chinese policy-makers do not want to add burdens on consumers, as they are working to boost domestic consumption to help cushion an economic downturn.
Coupled with the tax hike, six types of fees on road and waterway maintenance will be canceled, while tolls on second-class roads built by the government on loans will be phased out, the statement said.
As a remedy, the increased fuel tax revenue will be used to cover expenditure on road and waterway maintenance and management, subsidize the losses of local governments due to the abolishment of road tolls and support farmers and disadvantaged people affected by the reform.
The reform was also part of the government's efforts to reduce the green house effect and cut down the country's energy intensity. The plan "is aimed at facilitating energy saving and emission cut as well as the economic structural adjustment," the four ministries said in the statement.
In a major reform of the country's oil-pricing mechanism, the statement said the State will set a ceiling on the fuel price. Currently, the NDRC determined a benchmark price, allowing refiners to charge buyers 8 percent more or less.
The four ministries are soliciting public opinions on the plan before December 12.