Disabled children living in Beijing will be paid an annual allowance from next year to help pay for medical treatment and support services, the Beijing Disabled Persons' Federation said on Wednesday.
Liu Yang, from the federation's rehabilitation department, said: "The government will provide 42 million yuan ($6 million) to pay for a range of support services for every disabled child in the city."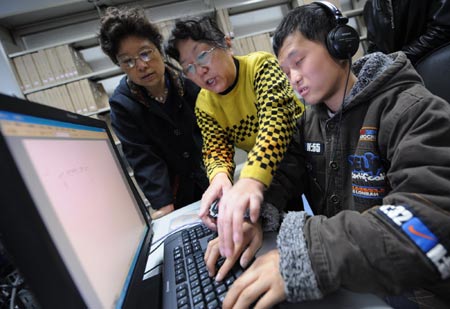 A boy with impaired vision is taught to type on a computer by two library staff members in Shaanxi province, December 3, 2008. [China Daily]
Under the provisional draft of the plan, which will be introduced on Jan 1, each of Beijing's 21,900 disabled children will be given an annual allowance of 1,000 yuan, Liu said.
To qualify, the children must have a Beijing hukou and be aged under 16, he said.
Children under 7 will also receive 500 yuan a month for special medical treatment at any of the 94 hospitals and organizations that are taking part in the scheme, he said.
"For example, children under 7 who have severe hearing problems will be given free cochlear implants," Liu said.
The normal cost of the procedure is about 100,000 yuan, he said.
Wang Shufeng, director of Beijing's Hearing and Speech Rehabilitation Center, said the implants are the most effective treatment available for children with hearing problems.
The center treats about 100 children a month, mostly from the countryside, he said.
"This is a great scheme for disabled people in Beijing, but it should be extended to more provinces," Wang said.
"Hopefully this is just the beginning, and one day, children from all over the country will be able to get the same level of care," he said.
According to figures from the disabled person's federation, more than 40 percent of Beijing's disabled children could benefit from some form of rehabilitation, while 20 percent are in need of aids, such as wheelchairs.
"Families with disabled children can apply now for next year's allowances," Liu said.
At the hearing and speech center on Wednesday, China Daily spoke to Man Xiaobing, a migrant worker in the capital and mother of a 3-year-old deaf girl.
"It's good news, but only for Beijingers," the 27-year-old said.
"Even though we don't have Beijing hukou we should still have the same rights as Beijing residents," she said.
She said she wanted to buy a cochlear implant for her daughter, but could not afford the 168,000 yuan price tag.
Wang Baolin, from Hebei province, was equally disgruntled above the preferential treatment being provided to Beijing residents.
Although a charity paid for her 5-year-old son, Wang Bo, to have a cochlear implant when he was 3, she said she still has to pay for ongoing treatments.
"We have paid much more than 1,000 yuan, but we can't apply for the new subsidies because we come from Hebei," she said.