China and the US should strengthen cooperation in the energy and environment sectors according to the framework set up at the fourth Strategic Economic Dialogue (SED) in Washington in June, experts have said.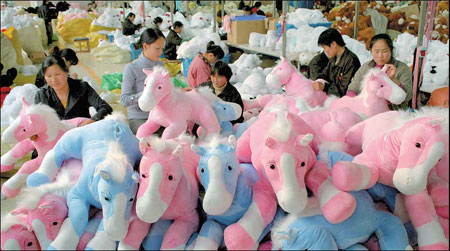 Workers make soft toys at a factory in Ganyu county of Jiangsu province. Companies that export products such as toys are trying to find new ways to cut costs to cope up with the falling international demand. [China Daily] 
Strengthened cooperation in these sectors will help ease the trade imbalance between the two countries, for long a major concern in bilateral trade ties, they said.
Last year, the US was China's second largest trade partner. Customs figures show bilateral trade reached $302.8 billion, up by 15 percent over the previous year.
China exported $232.7 billion worth of goods to the US, and its imports from that country reached $69.38 billion, creating a surplus of $163.32 billion.
The global financial crisis has made Sino-US trade relations even more important, and the SED, which starts in Beijing today, should help boost trade and curb protectionism, the experts said.
Zhou Shijian, a senior researcher with Tsinghua University's Center for China-US Relations Studies, said cooperation in energy and environment sectors could provide business worth hundreds of billions dollars to US companies.
China still has a lot to do to reach a high energy efficiency level, and needs new technologies to help protect its environment, which is a major issue for its economic development, he said. And the US can help it do so because it holds an advantage in both the sectors.
But, Zhou warned, the two countries have to work against protectionism, especially because the global economy faces uncertainty.
"Usually when demand is weak and the market shrinks, countries resort to protectionism to protect jobs at home," Zhou said. "But such a practice can only worsen trade (and hurt economies further)."
Shi Yinhong, a professor of China-US relations in Renmin University, said: "I'm worried that Barack Obama's Democrat administration could be more pro-protectionism than the Republicans."
His fear is based on Obama's criticism of China on trade issues during his presidential campaign. The president-elect accused China of dumping goods in the US and manipulating its yuan.
"Trade protectionism is on the rise, running counter to the general trend of falling trade remedy cases in the world," says a Foreign Market Access Report, prepared by the Ministry of Commerce earlier this year.
Bilateral trade increased at a fast pace last year, but there was a simultaneous rise in the number of anti-dumping and countervailing probes against China, too.
The SED in Beijing, a mechanism initiated by top officials of the two countries in 2006, will be the last under the Bush administration, but the experts said the high-level dialogue would continue under the next president, too.