CHENGDU: The Beichuan authorities are inviting public opinion on a draft plan for the reconstruction of the county's seat, which was devastated in the May 12 earthquake.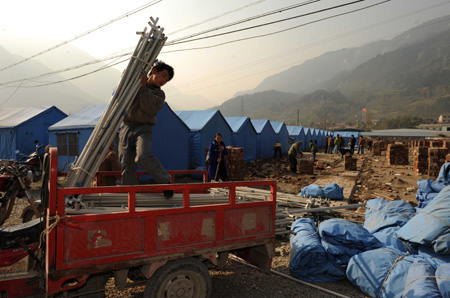 Workers remove temporary tents in Leigu township, Beichuan country, Sichuan province, on Sunday. The county was devastated in the May 12 earthquake. [Xinhua] 
Local officials said on Wednesday that the public consultation period would end in a week.
Beichuan county Party and government officials (with help from the China Academy of Urban Planning and Design) put up five billboards along a road near Bandengqiao in Anxian county's Anchang township to seek public opinion. The spot is about 20 km from Qushan town, the seat of the old Beichuan county government.
The billboards explain the general policies on the selection of a new site and the possible locations, as well as building designs.
The site has to meet five requirements: good geographic location away from fault lines, sufficient usable land, conditions favorable to the expansion of Beichuan, conform to conditions set for urban area reconstruction of Sichuan province and Mianyang city, and reflective of residents' opinions.
When contacted by Xinhua on Wednesday, a Mianyang official said public opinion was needed because the draft plan had been drawn up by professionals, not local residents.
Four townships, Leigu in Beichuan county, and Yong'an, Sanzao and Huangtu, in neighboring Anxian county, have been chosen as possible sites, he said.
"The local government seems to favor Huangtu. Experts have said Leigu and Sangzao lie along the fault line, while Leigu and Yong'an lacks sufficient land," the official said.
The seat of Beichuan county in Qushan was built in 1952. But Qushan lies on the junction of two fault lines. That's why the area experienced many landslides and rock- and mud-flows before May 12, and was razed in the 8-magnitude quake. After that, officials decided not to rebuild in the area.
Li Huagang, who is in charge of supporting reconstruction efforts from Shandong province, said on Tuesday that the draft plan was expected to be finalized and published in February.
And Li Xiaojiang, head of the China Academy of Urban Planning and Design and in charge of design work for the project, said construction could start in February if the draft was approved by the government by year-end.
One billboard displays the result of a random survey, which found that 95 percent of the respondents favored rebuilding the county seat on a new site and 60 percent said secure geological conditions were most important.
Another billboard shows a satellite image map, with the four possible locations marked.
Under the draft plan, construction will be carried out in three phases. The first includes public welfare facilities, government headquarters and housing. It will cost 19.32 billion yuan ($2.84 billion).
Xinhua