URUMQI -- Twenty-two people died when a bus collided head on with a truck on National Highway 314 in Kuqa, Xinjiang Uygur autonomous region, around 8:40 am on Tuesday.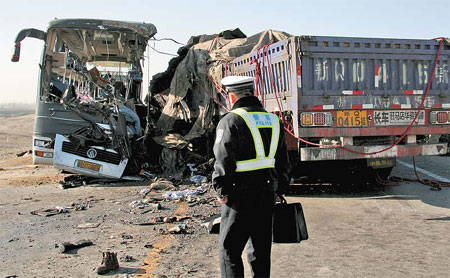 A policeman checks the two vehicles that collided head on on National Highway 314 in Kuqa, Xinjiang Uygur autonomous region, on Tuesday in which at least 22 were killed. [Yi Ming] 
The bus carrying 29 passengers was going from Artux in southwestern Xinjiang to Urumqi, the regional capital, 1,000 km to the north. And the coal-laden truck was headed for Kashgar in western Xinjiang from Urumqi.
Twenty people died on the spot and one on way to Kuqa People's Hospital. One of the passengers died of his injuries at the hospital around 7 pm.
Eleven people have been admitted to hospital, and the condition of two of them is serious.
Traffic police posted on the highway said the driver of the truck, which belonged to the Third Transport Co of the Xinjiang Production and Construction Corps, had been asked to take a rest about 20 minutes before the accident because he looked too tired.
But an initial investigation showed the bus driver lost control and veered off his lane and hit the truck head on.
Relatives of the victims were informed as soon as their bodies were identified. And traffic on the highway resumed after the bodies of the victims and the two vehicles were removed, and the injured taken to hospital.
Several deadly accidents have taken place in the region recently because of poor road conditions. The most recent major accident took place in Akqi, a county in the Kizilsu Kyrgyz autonomous prefecture in western Xinjiang, on Aug 12 in which 25 people were killed.
Zhang Guoling, head of Kuqa government information office, said the authorities rushed ambulances, fire fighters, traffic police and medical teams to the spot immediately after the accident.
The vice-chairman of Xinjiang Uygur autonomous region arrived with an 18-member working unit and visited the injured at the hospital.
And a four-member medical team arrived from Urumqi to help the medical staff at Kuqa People's Hospital.
Xinhua contributed to the story