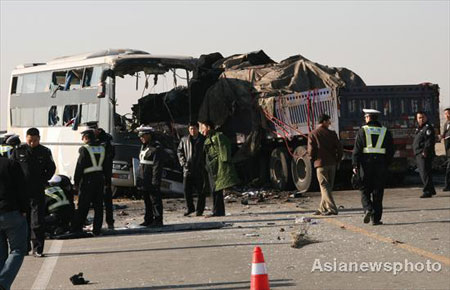 Policemen attend to the site where a coal truck collided with a bus on National Highway 314 in Kuqa, Xinjiang Uygur Autonomous Region at around 8:40 am, December 2, 2008. The death toll from the collision has risen to 22, with another 12 injured and three still in serious conditions, said local sources. [Asianewsphoto]
The death toll from Tuesday's highway bus-truck collision in northwest China's Xinjiang has risen to 22, after one seriously injured passenger died in a hospital, traffic police said.
Another 11 injured passengers, two in serious condition, were still receiving treatment.
The accident happened at about 8:30 a.m. when a coal truck and a bus collided head-on while traveling on National Highway 314 in Kuqa County, Xinjiang Uygur Autonomous Region, said the county traffic police.
The latest fatality was a passenger on the bus, raising the death toll from that vehicle to 20. Two others who died were from the truck, which belonged to the Third Transport Co. with the Xinjiang Production and Construction Corps..
The bus, with 34 reclining seats, left Artux in southwestern Xinjiang and was headed for Urumqi, the regional capital, more than 1,000 km north.
An initial investigation showed the bus driver had attempted to pick up something that fell on the floor while driving, making the bus veer off course into the oncoming lane where it hit the truck.
The driver of the truck, which was going from Urumqi to Kashi in western Xinjiang, had been ordered by traffic police to take a 20-minute rest for fatigue shortly before the collision.
Traffic on the highway has resumed.
Xinjiang is China's largest region. Kuqa sits on the southern foot of the Tianshan Mountain Range, which bisects Xinjiang. There have been several fatal accidents in the region because of poor road conditions.