Stephen Johnson, head of the United States' Environmental Protection Agency, visited Tonji University in Shanghai on Monday, just days ahead of the 5th Strategic Economic Dialogue (SED) between China and the US.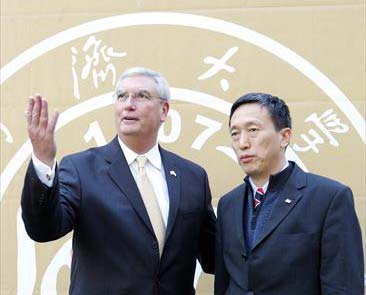 Head of the United States' Environmental Protection Agency Stephen Johnson with Tongji University president Fei Gang in Shanghai on December 1, 2208. [Gao Erqiang] 
At a press conference he declined to comment on the recommendations his ministry will make at the two-day talks in Beijing, saying people would "just have to wait".
He did, however, offer one recommendation, expressing the need for the office to recognize the importance of US-China relations and those created by the SED, which was formed in 2006 under President Hu Jintao and outgoing US President George W. Bush.
"That relationship needs to, and should, continue to grow and develop under some forum, whether it's the Strategic Economic Dialogue or some other means.
"As the world's largest economy, the US, and the world's most rapidly developing economy, China, we are linked, and it's important that we work together in a collaborative way to address issues," Johnson said.
At the SED, on Thursday and Friday, Johnson and his staff will address issues concerning a 10-year energy and environmental framework, focusing on water and air quality, and sustainable development.
"We will also be talking about eco-cities, an initiative we are hoping to be able to launch encouraging eco-city partnerships between cities in the US, as well as here in China," he said.
"We think we face many similar challenges and opportunities, particularly in the area of green or eco-friendly sustainable development."
The SED agenda will also include discussions on the economy, led by US Secretary Henry Paulson.
During a speech delivered to Tongji University's science, technology and environmental students, Johnson said the need to balance economic growth and sustainable development was more important than ever in light of the global financial crisis.
"During difficult economic times, there will always be some who call for a relaxation of environmental protection measures as a means of reducing production costs," he said.
"To my way of thinking, this course is shortsighted and risks forfeiting the future for the interests of the present. It also ignores one of the primary lessons of the past 30 years - that the goals of economic growth and environmental protection are truly interrelated."
Other areas to be debated at the SED are food safety, product quality and the reduction of trade protectionism.