Shanghai - Amid the coupling effects of shrinking global demand and rising operating costs, it has been a dramatic upheaval this year for domestic small and medium-sized enterprises (SMEs) after China started its reforms 30 years ago.
Even as the scene appears a bit scary, there is still a ray of hope if only entrepreneurs note the writing on the wall and go all out to cut costs before they raise the clamor for a bailout.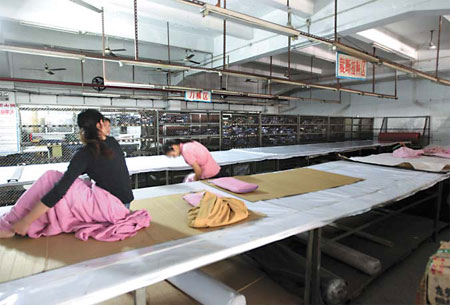 Two women make beds on a production line of the small private firm Nangang Shoemaking Factory in Foshan, Guangdong province. [China Daily] 
In the first half of 2008, much before the world saw the capital markets going topsy turvy amid the global economic slowdown, over 67,000 SMEs in China went bankrupt, while more than 10,000 labor-intensive textile enterprises downed shutters, according to figures from the Department of SMEs under the National Development and Reform Commission.
In October, 714 companies were closed in Dongguan in Guangdong province, home to over 60,100 private companies and a major manufacturing center in China.
"We will see more companies closing in the coming months, with the figure likely to cross 1,000 after Christmas," says Dongguan Deputy Mayor Jiang Ling.
Most of the international buyers of Chinese products failed to get letters of credit in October leading to significant cancellations of Christmas orders, says Frank FX. Gong, chief China economist at JPMorgan Securities (Asia Pacific) Limited in a recent report. "Indeed, 'things suddenly ceased' was the common comment we heard on the ground lately," he says.
But for some like Luo Chun, sales director of tin box maker Dongguan Tinpak Co, the freeze on Christmas orders has not yet meant closing. Luo says overseas order fell by 10 percent from June to October, normally the peak time for Christmas orders.
"Over 95 percent of our products are exported to West Europe. Demand from our customers in these regions has fallen sharply, after the financial turmoil worsened in September. If the conditions worsen further, we will see our order book falling further in December," Luo says.
"We have revised our annual profit expectations to 40 million yuan this year from 60 million yuan, and also suspended our expansion plans in the US market due to the large number of closures in our industry. It is time to scale back, and we have already taken the steps," he says.
Dongguan Tinpak has cut the number of weekly working days to five from seven and also started trimming its workforce, all at a time normally considered the busiest in the year.
"We will curtail our management team soon if December orders continue to slide," Luo says, explaining that personnel costs have gone up by 20 percent, since the new labor laws came into place. Personnel costs currently account for a lion's share of the operating costs, he says.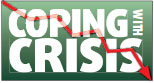 Anecdotal evidence shows that businesses become more cautious on hiring and spending at times when the global and domestic economy are grappling with downturns, with many even resorting to cutting the workforce, says Gong.
"We laid off four employees in October to keep our budget in control, as the human workforce is the most manageable cost for us at present," says Zheng Hao, general manager of Tuolima Network Technologies Co. Ltd, a Hangzhou-based fiber optic networks supplier that had 40 people on its payroll.
The company now faces uncertain times as it exports over 90 percent of its products to East Europe, which is also grappling to combat the fast spreading financial turmoil. "The sales revenue target for this year was $15 million initially, but we have now scaled it down to $10million, same as last year. We may see a negative growth in 2009," Zheng says.
Tuolima had laid off three people in its sales department in September. "Our human resource costs have risen by 10 percent after the new labor laws," says the company's Human Resource Manager Xu Ye.
But Tuolima was one of the few companies that spotted the clouds on the horizon much before others and decided to take preemptive action. For starters it decided to drop all its ambitious expansion plans before October itself. To secure cash flow, the company closed its Wuhan office in September after nine months of operation. Early this year it also decided to close one of its offices in the US to cut costs. "Cash is king to weather the winter, and we will hang on until a recovery materializes," Zheng says.
Li Yuanxu, professor at Fudan University in Shanghai, says by recognizing the problem early and making moderate cuts, SMEs can manage to survive the grim winter. Removing redundancies and keeping businesses well-controlled are undoubtedly good options, Li points out.
And apparently, this strategy has been widely adopted by most of the country's faltering enterprises.
Statistics show that over 20 million factory workers have lost jobs in China from January to June, mainly in the East Coast region which hosts a majority of the small firms. The redundancy numbers are likely to climb further in the second half if global economy slips further into recession.
According to the talent market figures from Shenzhen, a main city for export-oriented companies situated in Pearl River Delta, the number of recruiting companies in the talent market dropped by 30 percent in the third-quarter compared with the earlier quarter, while the number of job-seekers rose to 40 percent in the last four months.
Many local governments in China have now started taking actions to solve the emerging and acute social problem resulting from the job losses.
Shenzhen has opened a "green channel" for laid off workers to deal with "labor and capital" issues, according to media reports.
The local government of Dongguan has pledged to get approval from central authorities to ease the execution of the new labor law on manufacturers, and also to curb growth of minimum wages, says China Economic Net reports quoting Deputy Mayor Jiang.
There seems to be no silver lining. At the 104th Chinese Import and Export Fair held in Guangzhou from late October to early November, trade deals clinched by private-owned enterprises fell 18 percent over last year to $8.56 billion.
"The lost Christmas orders will not come back even after the importers get letters of credit now," says Gong, adding that exports would remain "subdued in the next couple of months."
Redundancy factor apart, there is also a great need for many of the small firms to adopt more cost-cutting techniques to thwart stagnant sales.
Feeling Pinched
Of the 30 percent rise in costs necessitated by dwindling global demand, appreciation of the yuan, and higher operating costs, only 10 percent could be passed on to suppliers, while the rest had to be absorbed by the enterprises, says Wen Zhongliang, deputy director-general of foreign trade department, ministry of commerce, at a press briefing.
Although the central bank has eased the credit woes through a series of stimulus packages in a bid to mitigate the capital shortage faced by SMEs, tightening belts remains essential for small enterprises to chart a steady path.
It is not realistic to borrow money from large commercial banks given the rigid approval conditions and lengthy examination procedure, Luo says, citing that his neighboring firm did not get a bank loan even after six months by which time most of its capital was wiped off.
"Cash in hand is always more secure. That is why we dropped the plan to move into a 12,000-sq-m factory building next June, and chose to stay in the 5,000-sq-m building instead," Luo says.
By actively adopting more serious, even minor, internal changes, businesses can avoid more cuts later on, and therefore are more likely to be left intact and stronger when the financial turmoil ebbs, financial experts say.
Han Bin, a 31-year-old deputy general manager and co-founder of auto show organizer Hangzhou JR Exhibition Co, Limited, agrees.
Han says he decided to control overheads ever since his start-up began operations in 2005. He decided to outsource most of the non-core businesses like human resources, finance to translation services and software development to independent professional companies.
"Outsourcing service improves our efficiency and effectively reduces labor cost and is handy to practice in troubled times. The exhibition industry is as sensitive as the stock market. We have to keep our team small and easy to manage so that we can safely exit unprofitable businesses to avoid huge losses," Han says.
Though the company is expected to see its sales growth fall to 50 percent from last year's 100 percent due to lower auto part orders, Han remains upbeat on the future. "Under such circumstances, we will have more time to train our staff and explore more product lines. I believe we can recover once the financial crisis ends."
"It is a useful strategy for small firms to maintain sustainable growth," says Sun Xiuchun, general secretary of China Association of SMEs, adding that enterprises can upgrade their overall service qualities from outsourcing their sub-businesses, and in turn put more emphasis on developing their core business.
Other services like travel expense management may also help in curtailing expenditures, industry insiders say.
Travel expenses, the second largest manageable costs, can be cut at least by 20 percent if firms take steps to control them, says Zhang Qiang, chief operation officer of Intohotel, a domestic online business to business travel management company.
"As a start-up, we're fortunately living in a warm winter as more companies turn to us for managing their travel plans," Zhang says.
With most of the airlines resorting to capacity cuts, companies like American Express Business Travel feel that teleconferencing and social networking sites will gain popularity as cost-effective ways to supplement meetings for SMEs.
AMI-Partner, a consulting firm specializing in IT and business services market, estimates that China's SME market will spend $42 billion on information technology this year, up 12 percent over last year, to improve office efficiency.
Undoubtedly, when the economy falters, every little change could become a turning point for smaller firms.
"Only companies that are cautious on each step forward, whether it be on spending money or on expansion, will be able to survive the bleak winter. That's also where Darwin's theory of evolution works," Luo says.