LIMA - Leaders of the Asia-Pacific Economic Cooperation (APEC) member economies promised on Saturday to take further actions to deal with the global financial crisis.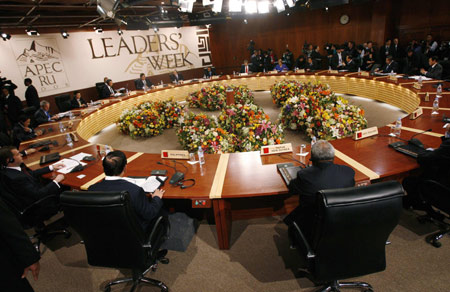 Leaders take their seats at the start of the first meeting of the Asia-Pacific Economic Cooperation (APEC) summit in Lima, November 22, 2008.[Agencies] 
In a statement issued in Peru's capital Lima, on the first day of their two-day summit, the leaders said they discussed the impact of the financial crisis and the actions APEC members are taking, individually and collectively, to restore confidence in their economies and maintain the region on a a path of long-term growth.
"We have already taken urgent and extraordinary steps to stabilize our financial sectors and strengthen economic growth and promote investment and consumption," the statement said.
"We will continue to take such steps, and work closely, in a coordinated and comprehensive manner, to implement future actions to address this crisis," it said.
The leaders pledged support for efforts by export  credit agencies, international financial institutions and private banks to ensure that adequate finance is available to business, including small and medium-sized enterprises, and to keep trade and investment flowing in the region.
They also welcomed continued development and innovation in the financial sector and called for more effective regulatory and supervisory tools as financial systems deepen and become more complex.
"The crisis also highlights the need to develop more effective standards of corporate governance and risk management as well as the importance of social responsibility in the financial sector," said the statement.
Meanwhile, the APEC leaders also expressed support for the Washington Declaration adopted at the G20 summit in Washington earlier this month and the common principles that will guide the Action Plan for financial markets reform.
They reaffirmed their commitment to Bogor goals of free and open trade and investment in the Asia-Pacific as a "key organizing principle and driving force" for APEC.
The "Bogor Goals," adopted by APEC leaders at their 1994 summit in Bogor, Indonesia, specify the APEC objectives for free and open trade and investment among industrialized members by 2010, and among developing members by 2020.
A total of 19 leaders from the APEC member economies attended the summit that began Saturday afternoon.
APEC, established in 1989, groups Australia, Brunei, Canada, Chile, China, China's Hong Kong, Chinese Taipei, Indonesia, Japan, Malaysia, Mexico, New Zealand, Papua New Guinea, Peru, the Philippines, Russia, Singapore, South Korea, Thailand, the United States and Vietnam.