LIMA - Chinese President Hu Jintao put forward proposals for dealing with major issues in international economic and social development and tackling the ongoing global financial crisis at the 16th APEC economic leaders' meeting on Saturday.
Hu presented five proposals for addressing the prominent issues in international economic and social development.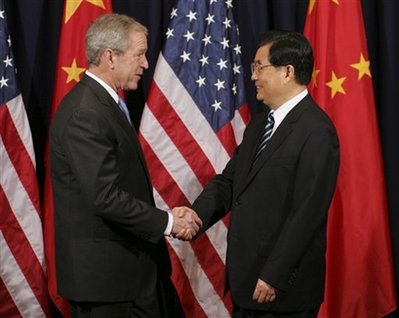 US President George W. Bush and President Hu Jintao of China shake hands before their meeting at the APEC Summit in Lima, Peru, Friday, Nov. 21, 2008. [Agencies] 
First, APEC member economies should build consensus and promote sound development of the multilateral trading regime, Hu said.
"A fair and open multilateral trading regime is conducive to the steady growth of regional and global trade, to the sound growth of the world economy and to the benefits of all parties," he said.
"We should have strong confidence in the multilateral trading regime and give strong support to the Doha Round negotiations," he added.
Second, APEC member economies should take up responsibilities and jointly tackle climate change, he stressed.
All parties should, in keeping with the requirement of the UN Framework Convention on Climate Change and its Kyoto Protocol and the principle of "common but differentiated responsibilities," actively conduct negotiations for the implementation of the "Bali Roadmap" and take effective policy measures in light of their respective conditions to mitigate climate change.
Related readings:


 China, US presidents meet on bilateral ties, financial crisis


 Hu outlines China's future development


 Hu urges business community to help tackle financial crisis


Hu urges APEC to promote sustained economic growth

Third, exchanges and cooperation should be conducted and efforts joined to combat natural disasters, Hu said.
In order to increase exchanges and cooperation in disaster response in the Asia-Pacific region, China has put forward the APEC Principles on Disaster Response and Cooperation this year, he said.
"It is also our hope that APEC members will consider carrying out long-term cooperation projects in post-disaster recovery and reconstruction so as to deepen APEC cooperation in disaster prevention and relief," he added.
Fourth, regulation and guidance should be enhanced and corporate social responsibility strengthened, he said.
"An important lesson we have learned from the ongoing financial crisis is that while trying to maximize economic returns, enterprises should follow a prudent, well-thought-out and responsible approach in market operations," he added.
Fifth, APEC members should take coordinated actions and ensure world food and energy security, Hu emphasized.
"We should, following the principle of common development, actively and effectively coordinate our policies and resort to a variety of joint measures to safeguard world food and energy security," he said.
"We should establish and act on a new energy security concept that calls for mutually beneficial cooperation, diverse forms of development and common energy security through coordination," he added.
Tackling Financial Crisis
"The rapidly-spreading international financial crisis, with its extensive impact, constitutes the most severe challenge confronting world economic growth," Hu said.
It is a major and urgent task for all countries and regions to deal effectively with financial risks, maintain international financial stability and promote world economic development, he added, lodging three proposals.