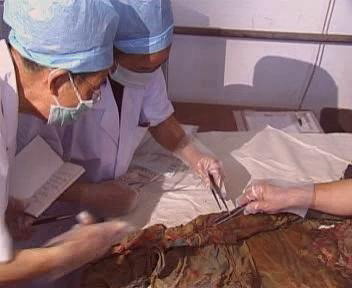 Five-year research sheds light on a mystery that has simmered for a century since Emperor Guangxu's death on November 14, 1904. [File photos]
Exactly 100 years after his death, it has finally been confirmed that Emperor Guangxu (1871-1908) was a victim of arsenic poisoning, though the murderer remains a mystery.
The finding has been revealed by a research team in Beijing, based on a five-year study of the emperor's remains and the conditions inside and outside his tomb. The investigators included the Western Qing Imperial Tombs (Qing Xi Ling) administrators, China Institute of Atomic Energy and forensic science experts from Beijing Municipal Public Security Bureau.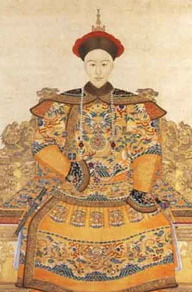 Emperor Guangxu
Emperor Guangxu was the penultimate emperor of the Qing Dynasty (1644-1911) but throughout his rule he was completely manipulated by the Empress Dowager Cixi. He died at the age of 37 on Nov 14, 1908, and 74-year-old Cixi passed away the next day, fueling decades of debate over Guangxu's death.
Researchers analyzed hair and clothes samples from Guangxu's body and found he had more than triple a fatal dose. They attributed its existence in the clothes around his stomach to corrosion caused by the decay of his poisoned body.
Experts have also dismissed the possibility of Guangxu being poisoned by traditional Chinese medicine (TCM). Historical documents show he was prescribed TCM during his reign and some elements might have led to an overdose of arsenic and mercury.
However, experts said that in the case of chronic toxicity, the ends of hair follicles contain higher amounts of poison than the rest of the hair. The opposite was true for Guangxu's hair.
They have also found proof of their arsenic conclusion in the memoirs of imperial doctors involved in Guangxu's treatment before he died and in the diaries of State Council (Junji Chu) officials.
Guangxu was 4 when he was chosen to be emperor by Empress Cixi, his aunt, after her only son, Emperor Tongzhi died.
Although he took power at the age of 16, it was Cixi who exerted total control over the court and the country. Tension mounted between the two as Guangxu tried to act independently and introduce political, legal and social reforms, threatening Cixi's power.
Guangxu started the famous "Hundred Days' Reform" in 1898 but failed. Cixi restored her own regency and confined the emperor to a small palace, Yingtai Terrace, for 10 years.
Whether Guangxu was murdered has been one of China's historical mysteries. The top three suspects are Cixi, Yuan Shikai and Li Lianying.
Some believe Cixi didn't want Guangxu to grab power back after she died and killed him first.
Or maybe it was Yuan Shikai, a key military official and politician of the imperial court, who betrayed Guangxu in the "Hundred Days' Reform". He feared his life would be in danger after Cixi's death and might have bribed a eunuch to poison the emperor.
Li Lianying was one of Cixi's favorite and most loyal eunuchs. He is also under suspicion because he was told that Guangxu had written in his diary to execute him and Yuan Shikai after Cixi died.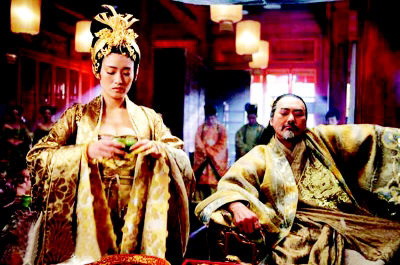 Gong Li plays the queen in Zhang Yimou's movie
Curse of the Golden Flower
. [File photo]