BEIJING -- China's Human Resources and Social Security Minister Yin Weimin described Thursday the country's employment situation as "grim", noting that adverse effect of the global crisis on employment may further unfold.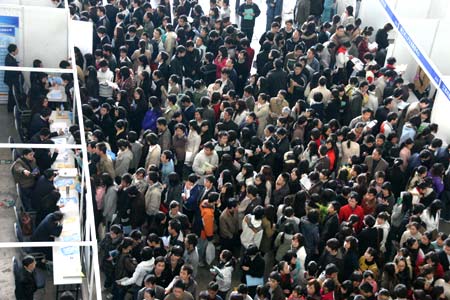 Job-seekers visit booths of companies at a job fair held for graduates in Nanjing, Jiangsu province in East China, November 20, 2008. Stabilizing employment is the top priority for China, Minister of Human Resources and Social Security Yin Weimin said on Thursday as he revealed a rise in jobless workers triggered by a weakened export sector amid the global economic downturn. [CFP]
The worsening global economic situation had weighed upon the country's employment since October, with unemployment occurred at some enterprises, especially labor-intensive small and medium-sized ones, when they were shut down or halted operation, Yin told a press conference here.
The minister expected the country's employment would face more difficulties in the first quarter of next year, but improvement was expected in the second quarter when government measures to boost domestic demand began to take effect.
Related readings:


 Guangdong gives a warning sign for job hunters


 Steps taken to stabilize job market


 Downturn makes job seekers lower outlook


 Job seekers lower expectations as downturn hits
He also said labor unrest was currently the "top concern" for the ministry when asked to comment on recent labor unrest reports.
Yin pledged the ministry would help enterprises to survive the tough time so as to reduce unemployment, and they would ensure payments would be made when unemployment was inevitable and require enterprises to address such labor relations according to laws.
However, the overall situation for this year was still stable, he added, citing employment figures for the first 10 months.
He said the registered unemployment rate was 4 percent for the January-October period in towns and cities, and the figure was below the government target of about 4.5 percent for the whole year.
The number of new employees totaled 10.2 million in the first 10 months, higher than the annual target of 10 million, he said.