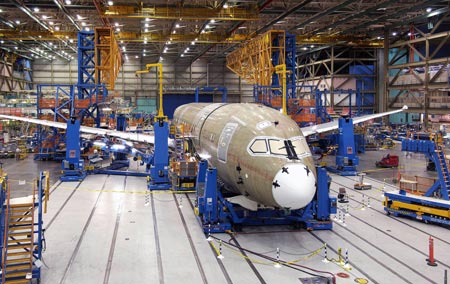 A Boeing 787 Dreamliner jet is assembled at a Boeing factory in Everett, Washington. [China Daily]
Aircraft maker Boeing yesterday said it would invest $21 million to expand the capacity of its composite materials joint venture in Tianjin as it sees demand for light-weight materials picking up substantially.
The company will expand the capacity of Boeing Tianjin Composites Co Ltd by 60 percent and also increase workforce from 600 to 1,000 by 2013.
Boeing boosted its stake in the joint venture to 88 percent in July by acquiring the 40 percent share held by advanced composites maker Hexcel Corp.
China Aviation Industry Corp (AVIC) holds remaining stake in the company.
"The aviation industry is currently grappling with oil and financial crises. In such a scenario, the efficiency of aircraft becomes even more important," said David Wang, president of Boeing China.
"With demand from aircraft makers slated to pick up in the near future, we see excellent prospects for the Tianjin unit."
The Tianjin factory, located in Binhai New Area, started operations in 2002 and provides composite secondary structures and interior parts for B737, B747, B767, B777 and the B787 Dreamliner aircraft. It delivers about 4,000 parts per month.
The joint venture's customers include Boeing, Hexcel, Shanghai Aviation Industry Corp, Xi'an Aviation Industry Corp, Goodrich, Korean Aerospace Industries and Vought Aircraft Industries.
"If the performance and capability of the factory continues to improve, there would be opportunities for more complex work to be done in Tianjin," said Carolyn Corvi, vice-president and general manager of Airplane Programs, Boeing Commercial Airplanes.
"We hope this facility will eventually become a supplier for China's large airplanes," Corvi said.
China plans to develop a 130- to 200-seat commercial aircraft, the world's most popular type of jet, to break the market duopoly of Boeing and Airbus.
It is expected to be launched during China's 13th Five-Year Plan (2015-20).
Boeing's European rival Airbus is also looking to set up a composites joint venture with Harbin Aircraft Industry Group Co (HAIG) early next year.
HAIG, a company affiliated to AVIC will have a controlling stake of 80 percent in the venture, with the balance going to Airbus.
The venture will provide composite materials for Airbus A320 and also participate in the industrialization and serial production of the A350 XWB work packages, due to enter service in 2013.
HAIG, based in Heilongjiang province, is China's largest manufacturer of composite materials for airplanes.
A State-level composite structures research and application center was launched at HAIG in June.
Composite materials are playing an increasingly important role in aerospace components as they have better fatigue and corrosion resistance along with higher strength-weight ratios.
The B787 is the first major airliner to use composite materials for most of its construction.
More than half of the primary structure, including the fuselage and wings, are made from composite materials.
The A350 XWB will be the first Airbus aircraft with fuselage and wing structures made primarily of carbon fiber reinforced plastic.