BEIJING - Beijing will not restrict the purchase of private cars, as was purposed by residents, to help ease traffic jams and stem pollution, a senior official said on Wednesday.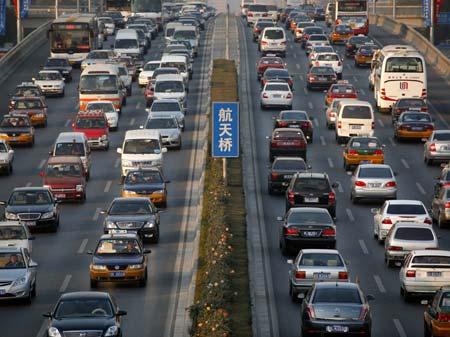 Cars travel along a main road in central Beijing November 19, 2008. [Agencies]
City authorities will not limit the number of license plates issued to reduce car purchases, said Wang Haiping, deputy head of the Beijing Municipal Commission of Development and Reform at a press conference.
Related readings:


 Private car drivers drive less after fuel price hikes


 Expert suggests Beijing restrict private car use


 Private car ownersip jumps 16% in 6 months


 More urbanites find alternatives to private car ownership
He said it would be an irresponsible move while China is trying to boost domestic consumption to offset impacts from the global financial crisis.
"It's inappropriate to restrict car purchases or license plate issuing to control the total number of vehicles. We need to take into account the overall situation of boosting domestic demand and maintaining steady, rapid economic growth. We need to maintain long-term development of the country's auto industry and citizens' expectations to improve their livelihoods after becoming more wealthy," Wang said.
Instead, city authorities would rely on boosting construction of the urban mass transit system and other forms of public transport to solve Beijing's traffic issues, he said.
Currently, Beijing has eight subway lines with 200 km of track.
The city government plans to spend 90 billion yuan (US$13.2 billion) on the construction of more lines within the next two years, increasing the total length to 300 km by 2010, Wang said.
The latest government statistics show that Beijing, a city of 16 million residents, has about 3.5 million vehicles. In addition, about 1,200 new vehicles take to the roads everyday.
Wang's remarks were in response to citizen calls to control the number of vehicles in the city to ease traffic and reduce pollution.