WUHAN -- With an influx of 300,000 rural migrants back from China's cities in the past two months, the central Hubei Province has ordered some companies to seek approval for job cuts to stabilize the job market.
Under an emergency program to deal with rising unemployment, large state-owned enterprises (SOEs) in Hubei were this month required to reduce salaries first before dismissing staff. Large SOEs and medium-sized local companies need to secure approval for cuts involving at least 50 people.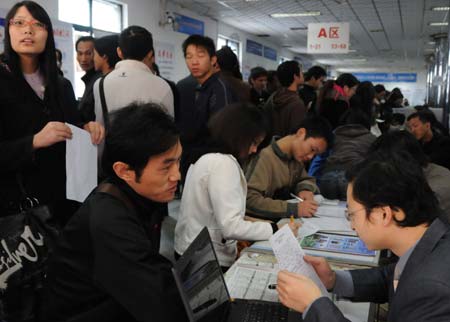 A migrant worker talks with an employer at a job fair for returning rural migrants in Wuhan, capital of central China's Hubei province, November 18, 2008. [Xinhua]
Struggling small businesses in counties and townships were urged to refrain from cutting jobs intensively so as to ease the burden on the local government-financed unemployment insurance fund.
The order along with government measures such as expanding small loans, easing market access and subsidizing vocational training came amid indications that economic growth and exports are slowing.
With production cutbacks and closures of export-oriented companies on the east coast amid weakening demand, Hubei, which had a yearly rural labor outflow of 7 million, was the first of the central and western provinces to respond.
About 200,000 returning workers have been re-employed locally in two months. As the global financial crisis affects the economy, a total of 600,000 are expected to come back by year end, say local officials.
Hubei Provincial Labor and Social Security Bureau deputy director Zhou Layuan was confident the province's employment situation would remain stable before the Spring Festival, which falls on January 25, 2009 and an important occasion of family reunion.
"For a clear picture of the impact of the crisis on Hubei's employment, we should wait until after the Spring Festival. It all depends on how the national economy plays out and how many rural migrants come home," he said.
China's migrant laborers, estimated at between 130 million and 150 million, are a significant economic indicator as their migration from poverty-stricken rural areas to the cities since early 1980s was voluntary and powered by their simple longing for a better life.
NATIONAL ALERT
One signal of trouble was the suspension of plans to raise the minimum salary by the Ministry of Human Resources and Social Security (MOHRSS).
In an effort to "stabilize labor and management relations", the ministry this week allowed some service-oriented companies to adopt flexible working hours and pay.
"With some companies, especially labor-intensive small and medium-sized firms struggling, the employment market has become severe while social security is facing new difficulties, including rising labor disputes," said an MHRSS statement.
The top priority was to take concrete measures to help enterprises tide over the tough times and stabilize employment, it said.
Local labor and social security authorities were ordered to monitor the operations of struggling enterprises and be alert to potential job cuts so as to defuse large cutbacks. Meanwhile, workers must have easy access to labor dispute arbitration to avoid the occurrence of mass incidents.
The ministry stipulated that migrant workers who lost jobs after having worked consistently for at least six months must receive one-off subsistence benefits and government-funded vocational training. Salary defaults should be handled as priorities to protect the interests of migrant laborers and social stability.
Large state-owned enterprises were required to shoulder their social responsibilities to avoid firing workers if possible. The ministry is also considering a plan to subsidize industries with unemployment insurance.