HANGZHOU: Construction workers here are considering their futures, and thanking their lucky stars, as rescuers continue to search for survivors and bodies at the site of the collapsed subway tunnel.
Since Saturday, dozens of men have been confined to their living quarters, waiting for an end to the tragedy that has already claimed the lives of eight of their colleagues.
Zhang Xiaohua from Ji'an, Jiangxi province, told China Daily Tuesday: "All subway construction sites in Hangzhou have closed down, so we have to wait here until the rescue work is finished.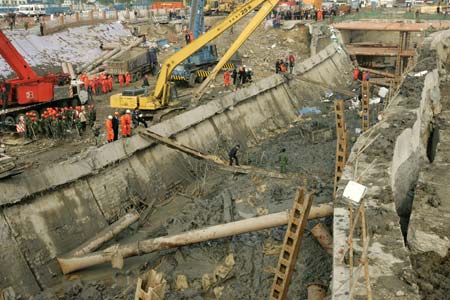 A view of the site of a collapsed subway tunnel in Hangzhou, Zhejiang province, November 18, 2008. [Agencies]
"I just want to get my wages and go home as soon as possible."
He said he shudders when he thinks back to the moment the cave-in happened, as he was working underground.
"In the blink of an eye, concrete, sand and steel pipes all came crashing down.
"There was total chaos both above and below ground. We were paralyzed with fear," he said.
"I think about what would have happened to my family if I had lost my life.
"I have elderly parents, and young children. What would they live on?"
He and his workmates have considering what to do next, he said.
"I want to go home and spend some time with my family. If I get another job, it has to be something safer."
Fang Richeng, from Chun'an county, Zhejiang province, was working above ground at the time of the tunnel collapse.
The 35-year-old said he had been at the site for less than a month; before that he had been building houses.
"I get 5 yuan (73 cents) more a day working here than I do building houses," he said.
"I wanted to make some more money, but I didn't expect to meet with disaster.
"We're paid 40 yuan a day, but that's nothing compared to the risk we're taking," Fang said.
He said that after he gets his wages, he will look for a new job building houses.
Local authorities said Tuesday they are still working on the details of how much compensation will be paid to the families of the men killed in the cave-in, but did not say what would happen to those who survived.
The collapsed tunnel was part of a 69-km underground rail project being built by China Railway Construction Group Co Ltd. The $5.1 billion project was launched in March of last year and is due for completion in 2011, the Xinhua News Agency reported Tuesday.
Rescue teams were Tuesday continuing to search for the 12 missing men.
Zi Baocheng, a spokesman for China Railway, said the efforts of the rescuers have been hampered by problems with digging machines, which have struggled to handle the deeply compacted earth.
"They have been forced to dig by hand, which takes longer," he said without saying when he thought the work might be completed.
Meanwhile, 11 of the 24 men rescued from the tunnel and taken to hospital have been discharged, the Xinhua report said.
Sun Hui, deputy chief of medical services at Zhejiang Xiaoshan Hospital, which is treating eight of the injured, said four are in a stable condition, but four others have been left traumatized by their ordeals.
"They are experiencing severe mood swings caused by fear and despair.
"They cry a lot and are suffering from insomnia," he told China Daily.