The ashes of John Leighton Stuart, the last US ambassador to China before the new China was founded in 1949, were buried Monday in China, decades after his death in 1962.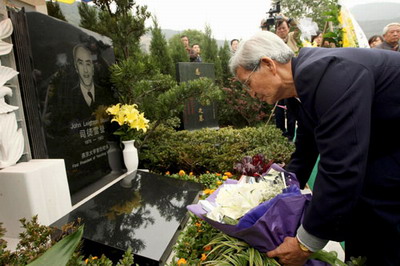 An old man, who graduated from Peking University, places flowers in front of Stuart's tombstone on Monday, Nov 17, 2008. [Qianjiang Evening News]
Stuart's ashes were interred beside a black marble slab with his name in both languages, said a report from the US-based Associated Press.
Several Chinese and American officials, including US Ambassador to China, Clark T. Randt Jr., attended the interment in a Hangzhou cemetery.
Randt said Stuart's legacy is in the almost 70,000 Chinese students studying in the United States today, and in the thousands of American students at Chinese universities. Stuart would be pleased by the countries' current relations, the official added.
John Leighton Stuart was born in Hangzhou in 1876 and returned to the United States 11 years later for education. In 1904, he went back to China and toured around in China to do missionary work.
In 1919, Stuart became the first president of Yanjing University (now Peking University), which under his 27 years' guidance became one of China's most prestigious universities.
He was then appointed as US Ambassador to China in 1946. Stuart left China in 1949 and died in 1962 in the United States.
Stuart was a fluent Chinese speaker, who was also an honorary citizen of Hangzhou. According to AP, Stuart saw himself as "more Chinese than American". In his will, Stuart asked his ashes to be buried in China.