JIAXIAN, Henan  -- Rescuers saved 33 of the 34 miners trapped in a flooded coal mine in central China's Henan Province early Tuesday morning almost 23 hours after the accident. One died.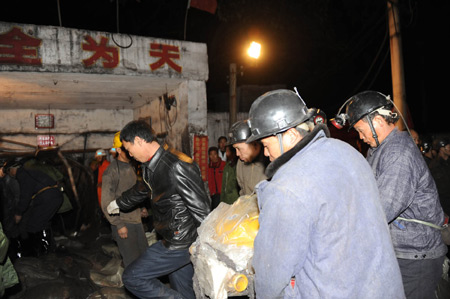 Rescuers work at the site of the flooded coal mine in Jiaxian County, Pingdingshan City of central China's Henan Province, Nov. 17, 2008. There were 42 people working underground in the Gaomendong Coal Mine when it was flooded on Monday at about 7:30 a.m. in Jiaxian. [Xinhua] 
According to Xinhua correspondents at the site, 33 trapped workers were successfully lifted out the flooded shaft after 6:03 a.m. Tuesday morning. One was found dead.
The flood happened at about 7:20 a.m. Monday at the Gaomendong Coal Mine in Jiaxian County, Pingdingshan City. There were 42 people working underground when the mine shaft flooded. Eight escaped right after the flood.
The mine had been working in unapproved area, and the number of the workers in the pit surpassed the safety capacity, Li Hanwei, vice chief of the rescue headquarters, told Xinhua Monday evening, adding that poor surveillance should also be blamed.
"The mine allows a maximum of 28 minors according to its safety operating procedure. But there were 42 people underground when the accident happened."
The mine owner has been detained.
More than 800 people took part in the rescue operations.
The Gaomendong Coal Mine is a legal colliery with a designed annual production of 60,000 tons. It was undergoing a technical innovation and expected to produce 90,000 tons after the reform.
Jiaxian is about 200 km southwest of Zhengzhou, the provincial capital. The county is rich in minerals with an estimated coal reserve of about 2 billion tons, according to the county website (www.jiaxian.gov.cn).
There are more than 20 coal mines around the Gaomendong Coal Mine.