WASHINGTON - Leaders from the world's major developed and emerging economies agreed here on Saturday to make free market principles grounded in, which are essential to economic growth and prosperity.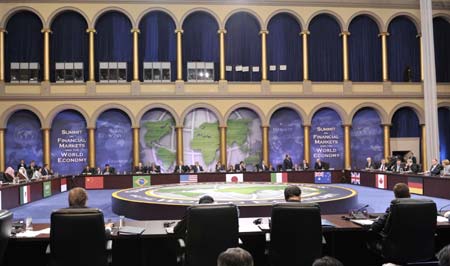 The first plenary session begins at the G20 Summit on Financial Markets and the World Economy at the National Building Museum in Washington, November 15, 2008.[Agencies] 
"Recognizing the necessity to improve financial sector regulation, we must avoid overregulation that would hamper economic growth and exacerbate the contraction of capital flows, including to developing countries," said the leaders in a declaration issued at the G20 summit on financial markets and world economy, which is held Saturday in Washington.
The G20 consists of major developed countries and emerging economies, such as China, Brazil and India, and accounts for 85 percent to 90 percent of the world's total economy and about two- thirds of the world's population.
"We underscore the critical importance of rejecting protectionism and not turning inward in times of financial uncertainty. In this regard, within the next 12 months, we will refrain from raising new barriers to investment or to trade in goods and services, imposing new expert restrictions, or implementing World Trade organization (WTO) inconsistent measures to stimulate exports," said the declaration.
"Further, we shall strive to reach agreement this year on modalities that leads to a successful conclusion to the WTO's Doha Development Agenda with an ambitious and balanced outcome. We instruct our trade ministers to achieve this objective and stand ready to assist directly, as necessary. We also agree that our countries have the largest stake in the global trading system and therefore each must make the positive contributions necessary to achieve such an outcome," it said.
"We reaffirm the importance of the Millennium Development Goals, the development assistance commitments we have made, and urge both developed and emerging economies to undertake commitments consistent with their capacities and roles in the global economy.
"In this regard, we reaffirm the development principles agreed at the 2002 United Nations Conference on Financing for Development in Monterrey, Mexico, which emphasized country ownership and mobilizing all sources of financing for development.
"We remain committed to addressing other critical challenges such as energy security and climate change, food security, the rule of law, and the fight against terrorism, poverty and disease, " the declaration said.