SHIYAN -- Even though the Chinese martial arts, or kungfu, failed to enter the Olympic program, it has become an international sport.
Some 2,000 athletes from 69 countries and regions, including Britain, the United States, Poland, Russia and Greece, are competing in the 3rd World Traditional Wushu Championships, which opened in Wudang Mountain here on Friday.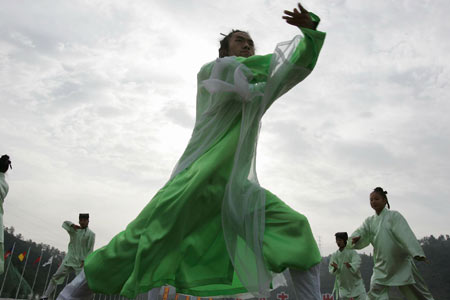 Performers play Taiji during the opening ceremony of the 3rd World Traditional Wushu Championships, at Wudang Mountain, central China's Hubei Province on October 30, 2008. [CFP]
The athletes, many of whom are students studying in China, all expressed their passion for this precious treasure of Chinese culture.
Pilli Sabrina of Italy, who began to learn Wudang Kungfu 10 years ago,  has won many medals in China and Italy. She played Taiji sword in this Championships.
"Chinese martial arts are quite helpful to man's body and mind. Wudang Kungfu teaches me to make my heart more peaceful. I will persist in practising it in the future,"she said.
Brazil's Paulo Hiroshi Sakanaka, 75, a retired physics teacher, has been practising Taijiquan (shadow boxing), a kind of Wudang wushu, for 15 years. He has become a teacher and has 50 students in Brazil.
He told Xinhua that he will compete in two events of Taijiquan and Taijijian (Taiji sword) in the championships.
"I love playing and teaching Taiji, for it's good to health and very beautiful when playing."
Japan's Miki Kakuta started his kungfu lesson of Changquan (long fist)and Jianshu (sword) four years ago and now she cannot live without it.
"When I was a child, I loved to watch Chinese kungfu movies, hoping to be a skilled kungfu player like Jackie Chan and Jet Li. Now I find that I truly love it for its charm," she said.