Two miners were killed and fifty-five others remain trapped as a result of three separate colliery accidents in China on Wednesday, local authorities said.
One miner was killed, and 28 others are trapped after a coal mine exploded at 8 p.m. in the northwest Shaanxi Province. The blast occurred at the Yaotou mine shaft in Chengcheng county when 36 people were working.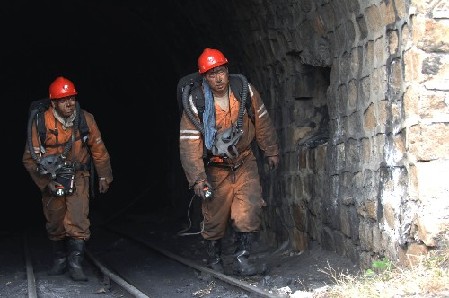 Two rescuers walk out of the Yaotou mine shaft in Chengcheng County, northwest China's Shaanxi Province on Thursday, October 30, 2008. A blast occurred at the coal mine when 36 people were working underground. [Xinhua] 
Seven miners escaped. Rescuers found one body Thursday afternoon. They expect to find more dead as the mine shaft caved in, flooded and it's ventilation system is not working.
Rescue efforts are also underway at another mine in the northern Shanxi Province. Seven miners have been trapped underground for more than 24 hours after a colliery flooded at the Qinghai Coal Mining Co., Ltd, Xiangning County. It happened at 6:30 a.m. Wednesday.
A total of 83 rescuers from the ambulance corps and four nearby mines were working at the scene, said a Shanxi Provincial Work Safety Administration spokesman.
One pump was expelling 63 cubic meters of water from the shaft every hour. Four other pumps were being set up and were expected to begin operating soon, the spokesman said.
The mine owner's bank account has been frozen by police, which is standard procedure until an investigation is conducted.
In central China's Henan Province, one person was killed and 20 are trapped after a coal mine flooded. This one happened at the Mazhuang colliery, in Jiyuan city, around 7:15 p.m.. Twenty-eight miners were working below ground. Seven managed to escape.
Rescuers told Xinhua the shaft was filled with silt.
Around 300 people are on the scene trying to pump the water out of the mine.
All three accidents happened at small, licensed collieries with annual production capacity ranging from 150,000 tons to 300,000 tons.