CHONGQING: Eleven workers were killed and 12 others were injured at a bridge construction site here on Tuesday, when a cable holding the container-lift they were in snapped, plunging them 9 m to the road below, the Xinhua News Agency reported Wednesday.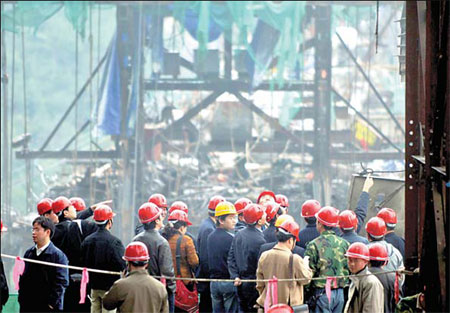 Work safety officials visit the site of the accident in Chongqing Wednesday. [Xinhua]
The incident happened in heavy rain at about 10 pm at the site of the Furongjiang Bridge in a mountainous area close to the town of Haokou in Wulong county.
Nine of the men were declared dead at the scene, while two others died on the way to hospital, Xinhua said.
The 12 injured men are being treated at Wulong County Hospital, where 11 of them are said to be in a serious condition.
A worker with the bridge's main contractor, Chongqing Yutong Highway Engineering Corp, said that no one could understand how the cable had snapped as it was designed to hold up to 20 tons, Xinhua said.
The construction project, which was launched in 2006, was scheduled for completion within 18 months but bad weather hampered its progress.
An incident room was set up at the site immediately after the event, and Liu Xuepu, vice-mayor of Chongqing, arrived at the scene two hours later to oversee its operations.
Work safety officials are investigating the cause of the incident.
Xinhua-China Daily