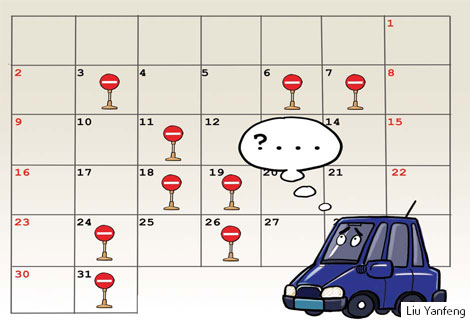 When Zhang Ximan bought her second car before the Olympics, she did not expect Beijing's vehicle restrictions to become permanent.
"I had to buy a new car because I needed it to send my 4-year-old son to kindergarten every day," says Zhang, who lives outside the Fifth Ring Road in eastern Beijing.
Related readings:


 New traffic rules in Beijing


 Beijing imposes car ban to ease traffic jams


 Traffic eases on car ban's first day


 Post-Olympic traffic faces challenges in Beijing

Her son's kindergarten is in Haidian, northwestern Beijing, an 80-minute drive away. Zhang thinks the long journey is worthwhile because the kindergarten is affiliated with prestigious Peking University and so guarantees a good education for her son in future.
Beijing banned vehicles on alternate days during the Olympics and Paralympics, depending on whether their license plates ended in an odd or even number.
Combined with other drastic measures, like shutting down construction sites and factories, Beijing saw clearer skies and smooth traffic during the two-month ban.
According to a Greenpeace China poll, 54 percent of car owners want car restrictions to be retained to keep Beijing's air clean and a whopping 93.8 percent of Beijingers want the city's public transport system to be expanded further.
Professor Li Dihua from the Environment and Ecology Department of Peking University says now is the best time to extend the traffic restrictions and build an environment-oriented society.
"I think the public should see this policy from the standpoint of a long-term government strategy to improve city planning and the quality of public life," Li says, adding the policy will change China's concept of urbanization.
Zhang's second car spared her two months of inconvenience during the Olympics but now she has new frustrations.
The municipal government recently launched a six-month trial ban on all cars effective for one weekday each week depending on the last digit of the license plates.
Cars are divided into five groups: license plates ending in a 1 or a 6 are banned on Mondays; those with plates ending in a 2 or a 7 are banned on Tuesdays, and so on. A third of local government vehicles will be banned from the road.
The Municipal Committee of Communications says the trial ban has taken 800,000 cars off the road every weekday.