The fruit fly scare in Sichuan province has now severely hit tangerine sales across the country.
"The scare has caused direct economic losses of 400 million yuan ($57 million) so far and the figure is expected to rise if the crisis does not end in a week," Chen Zhiqiang, a press official of Changde, a major producing area in Hunan province, told China Daily Monday.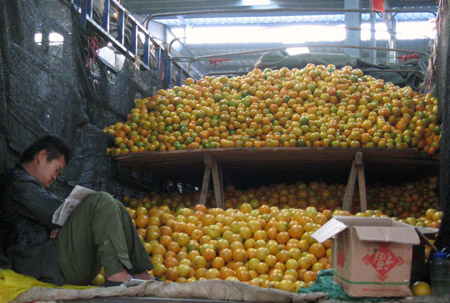 A tangerine salesman takes a break in the absence of any customers on Sunday in Jinan, Shandong Province Monday. [Xinhua]
"There is no need for buyers to fear tangerines from Hunan. To date, none have been infected by fruit flies," Chen said.
Changde has been unable to sell more than 50,000 tons of the fruit because of the scare spreading to other provinces.
In nearby Hubei province, also a major tangerine growing center, more than 1.6 million tons could not be sold as of Sunday, Wuhan-based Yangtze River Times reported.
Li Chuanyou, secretary-general of the fruit industry association in Hubei province, said about 70 percent of province's harvest this year has not been sold.
"If the situation persists, Hubei farmers may suffer a loss of up to 1.5 billion yuan," Li said.
Tangerine prices have continued to drop in the past four days at Beijing's Xinfadi market.
Yesterday, the fruit was selling for less than 1 yuan a kg, half that a week ago, but people were still reluctant to buy.
He Xiaoli, a vendor at the market, said she normally supplies tangerines to seven supermarkets in the city but now only one.
The rest had cancelled their orders.
Deng Ningxin, a Beijing resident, said she had stopped buying tangerines for the time being.
"I know the tangerines sold in Beijing have not been infected, but I still feel a bit uneasy," Deng said.
The reluctance to buy tangerines was triggered by reports in Sichuan last week that 10,000 tons of the fruit had to be destroyed in Guangyuan because of fruit flies.
Sichuan officials, however, refuted the report. They said only 12 tons were destroyed and the situation was under control.
In Jinan, Shandong province, a week-long tangerine promotion started yesterday at the Dikou fruit market to attract customers.
The first 600 customers will get a 2.5 kg bag of tangerines for free, organizers said.