More than 1.6 million tons of tangerines sit waiting for delivery trucks in central China's Hubei province, affected by a recent panic caused by a pest outbreak in such fruits in neighbouring Sichuan province, the Yangtze River Times reports.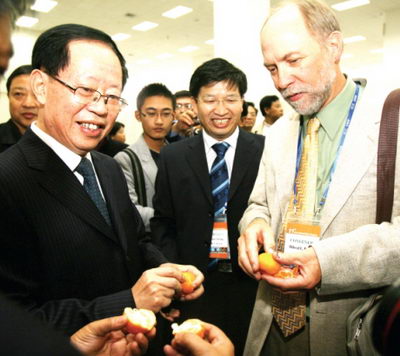 Chinese Vice Minister of Agriculture Wei Chaoan (L), President of Huazhong University of Agriculture (C) and an American citrus expert(R) taste tangerines planted by local farmers at the 11th International Citrus Conference in Wuhan, Central China's Hubei province, October 26, 2008. [Yangtze River Times] 
Li Chuanyou, secretary-general of fruit industry association in Hubei province, said that ever since a type of gusano was found grown in such fruits from Sichuan province early last week, the amount of oranges that have become unmarketable in Hubei province account for about 70 percent of province's harvest this year.
A major orange production base in China, Hubei province annually produces about one ninth of the country's total tangerine fruits.
Li Chuanyou warns that if the situation persists at this time of harvest, farmers of Hubei province may suffer a huge loss of up to 1.5 billion yuan, or about US$218 million.
However, Li added that there is no need for buyers to feel upset over the tangerines from Hubei since they are all planted by local farmers, and to date, none of such tangerines have been found damaged by pests.