TOKYO -- China and Japan will push forward their relationship despite obstacles, outgoing Japanese Prime Minister Yasuo Fukuda said on Tuesday.
"During President Hu Jintao's visit (to Japan) in May, the two countries signed a joint statement on promoting a strategic relationship of mutual benefit, which clearly shows the direction of bilateral relations," Fukuda said in a message to the 4th Beijing-Tokyo Forum, which opened Tuesday.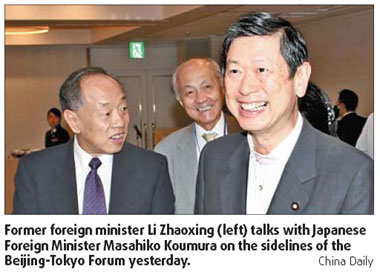 The Tokyo-Beijing Forum was co-founded by China Daily and Japanese NGO, Genron-NPO, as a platform for dialogue between the two countries' officials.
"Our future will not necessarily be (one of) smooth sailing, and could see many tests. I believe Japan and China will adhere to the (May 2008) joint statement and overcome difficulties, and move forward with full courage," he said.
Fukuda, who resigned as prime minister on Sept 1, supports friendly policies toward China. Bilateral relations, in fact, have warmed during his term.
Though his resignation has created uncertainties, many senior Japanese politicians have assured China that Tokyo's policy toward Beijing would not change.
One such assurance came from Japanese Foreign Minister Masahiko Koumura, who told the forum he hoped the two neighbors would continue their cooperation and work more closely on international issues.
"Because of the current change in Japan's political situation many people are highly concerned over Japan's policy toward China," Koumura said, referring to the uncertainty created by Fukuda's resignation.
"But I'm certain there will not be any change in promoting our relationship The path of Japan-China ties will not be swayed by either the international climate or domestic affairs," he said.
Taro Aso, the frontrunner in the Japanese prime ministerial race, too, has gone on record saying he would maintain friendly ties with Beijing if elected.
In a debate with other prime ministerial candidates on Friday, the outspoken Aso jokingly introduced himself as the candidate "who has caused concern that he will make an enemy out of China". But he said in all seriousness that such fears were unwarranted.
"We will live together with China," he said. "Friendship is only a tool, the real goal is co-prosperity of Japan and China."
The Chinese side expressed similar views. In a message to the forum, State Councillor Dai Bingguo said Sino-Japanese ties have reached a "new historic starting point", based on the "strategic relationship of mutual benefit".
Communication platform key to bilateral relations