There's $30 billion floating in the air over China, but it won't be easy to grab it. It's China's carbon trading market.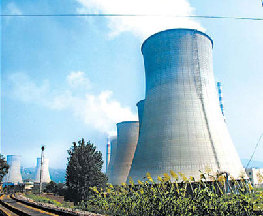 The world market for trading greenhouse gas emissions doubled last year to about $70 billion, according to World Bank figures. China accounts for 73 percent of the clean development mechanism (CDM) projects - a major carbon trading business.

Until just a few years ago, the idea of making money from emissions trading would have sounded like madness to most businesspeople in China. But the CDM is changing all that.
The deal between Myland Group, a chemical plant based in Jiangsu province, and the World Bank is one example. Every year during production, the plant emits HFC23, a strong, heat-trapping gas, equivalent to 8 million tons of CO2s. Before the manufacturer signed a contract with the World Bank to sell carbon credits, the chemicals group did not realize it was sitting on a goldmine. But the seven-year deal is expected to bring the group a windfall of more than 330 million euros at a price of 6 euros per ton of CO2s.
China has 260 CDM projects registered with the UN, accounting for about 23 percent of the program's projects. The Chinese projects are expected to reduce about 114 million tons of CO2 emissions annually, accounting for more than 50 percent worldwide in terms of emissions reduction under the mechanism.
The Kyoto Protocol, an international treaty to limit greenhouse gas emissions and curb global warming, allows industrialized nations to meet limits on greenhouse gases by funding reduction projects in developing countries. These projects can earn saleable certified emission reduction (CER) credits, each equivalent to 1 ton of CO2s, which can be counted toward countries' Kyoto targets.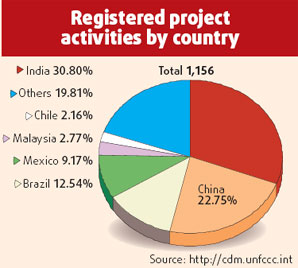 Greenhouse gases - including CO2s, CH4s, N2Os, HFCs, PFCs and SF6s - have become intangible goods in international trade.

The mechanism encourages sustainable development and emissions reduction, while giving industrialized countries flexibility in how they meet their emissions reduction or limitation targets.

Take Japan for example. Under the Kyoto Protocol, Japan must cut its greenhouse gas emissions by 6 percent in 2010, based on the emissions level in 1990.
"Japan needs to construct 20 standard nuclear power stations on its territory and to amend more than 100 laws and regulations in order to reach the target," Lu Xuedu, deputy director of the office of global environmental affairs at the Ministry of Science and Technology, says.
"It's not easy for Japan. Participating in the CDM program is a cost-effective measure for the country to fulfill its international commitment."
China is one of the world's biggest emitters, and CDM projects are bringing unexpected windfalls for most Chinese manufacturers. But local businesspeople are well aware of the challenges when it comes to the CDM.
"As far as I know, many CDM developers are facing difficulties," Qin Chuan, who works at the Beijing office of a Norwegian consultancy, says. "It's not easy to carry out a CDM project and reap profits - obstacles can appear around every corner."
Like many new consultancies, Qin's company plays a go-between role in the international business of carbon trading. It buys carbon credits in China and tries to sell them to rich countries that are bound to emission-reduction goals under the Kyoto Protocol. Most of the buyers are from EU countries and Japan.
"I've been looking for a carbon credit seller for two years and I'm still searching," Qin says. "I'm in this position for many reasons."
Big companies, like the top five power plants in China, have huge potential to reduce greenhouse gas emissions and are in a prime position to team up with international business partners. But Qin's company can't compete with global financial management and advisory giants like the World Bank or Merrill Lynch.
Instead, Qin is shifting focus to smaller projects like wind and hydropower generation. He says local governments play a decisive role when it comes to choosing partners for small projects, and foreign companies are at a disadvantage in developing good relations with local governments.
"But mine isn't the most frustrating story," Qin says. "I know some developers who have had to stop projects halfway through. They've watched as their early investment of hundreds of thousands of yuan for the necessary documents has evaporated into thin air, and they've lost the millions - or billions - of yuan they invested in infrastructure construction. Then there's the economic losses due to breach of contract."
There are many reasons CDM projects are abandoned - some don't qualify for UN registration, some fail to produce the CER amounts, or simply the rules of the game change.
"To avoid this situation of projects being stopped halfway, CDM developers should closely follow international conferences and negotiations. CDM is new, and it's still finding its way and improving," Lu says.
"Because the business largely depends on rich countries' commitment to the international convention, project developers should also keep an eye on the climate change policies of their business partners' countries."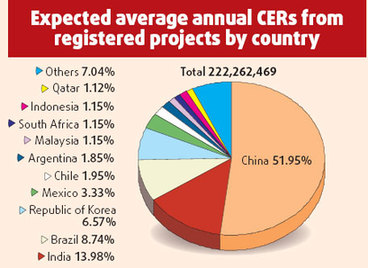 Every two months, Lu goes to Bonn, Germany, the UNFCCC secretariat location, to attend the regular meeting of the CDM executive board. New CDM issues are discussed at the meeting and CDM projects awaiting registration are reviewed.
When he returns, he writes a report on the latest amendments to the CDM rules and posts it on an official website. Many developers rely on this report.
"Any change will influence their (the developers') investment plans, bringing them loss or benefit," Lu says.
International law is another area where more information and communication is needed.
The Nanjing Tianjingwa landfill CDM project, one of the earliest carbon trading projects in China, is another gloomy tale for investors. The project's CER target was 200,000 tons of CO2s per year; however, when the project started, the CER was just 20,000 tons per year.
"To avoid having to pay huge amounts of compensation for breach of contract, Chinese sellers must make it clear in the contract who will be responsible for any economic losses incurred, in the event of the CER falling below the target," Lu says.
"There's a lot of misunderstanding about CDM, and especially criticism of China for selling the carbon credits at a low price - half that on the European market," Lu says.
But Lu believes China's current carbon credit pricing is appropriate.
In China, Lu says, carbon traders sign a futures contract, while in the European market, CER trade takes place on a spot market. The futures market is always high-risk and influenced by unexpected elements, so the price is relatively low, he says.
Under the Kyoto Protocol, Eastern European nations like Russia and the Ukraine can emit at 1990 levels in the compliance period from 2008 to 2012. However, due to the collapse of their economies, emissions are currently far below the 1990 levels. Russian CO2 emissions are currently only 70 percent of 1990 emissions. That's projected to increase to between about 80 and 90 percent of 1990 levels by 2010. Under trading rules supported by most non-EU developed nations, Eastern European nations would be able to sell these surplus allowable emission rights.
"As the Kyoto Protocol will expire in 2012, I suggest Chinese carbon traders go ahead and make deals, if the price is acceptable," Lu says.
The National Development and Reform Commission has already ratified 1,444 CDM projects, of which only 260 have been registered with the United Nations, got CERs and benefited the sellers. Investors in the remaining 1,184 projects are anxiously awaiting UN registration - if it's not forthcoming, their early investment will be lost.
"It's hard to tell whether the UN will register these projects," Lu says. But he is upbeat about the carbon trading market post-Kyoto Protocol after 2012, despite slow progress with the international negotiations.
"The Kyoto Protocol is the fruit of years of effort by the international community," he says. "It will not stop overnight. And I believe it will continue. As for the CDM, the system will be improved but carbon trading will also continue."
Liu Deshun, a professor at Tsinghua University, agrees. Liu says investors should not just focus on 2012, but should make long-term investment plans in environment-friendly facilities and carbon trading.