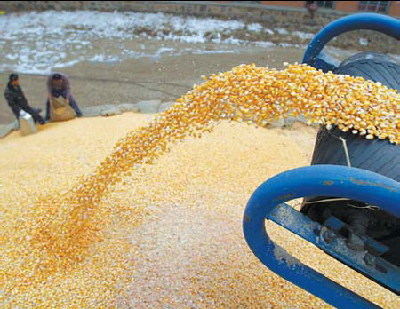 Corn is processed at a farm in Yitong Manchu autonomous county in Jilin province in this file photo.
Small fields like Cui's rely mainly on small and medium-sized reservoirs, and small river basins. "As long as natural disasters strike, grain output will decline," Su warned.
The province has just launched a 26 billion yuan program to address these issues in hopes of increasing its grain output by more than 5 billion kg within the next five years.
Jilin Vice-Governor Wang Shouchen, who is in charge of agricultural affairs, said: "The program includes 10 major projects such as water diversion, expansion of the irrigated area of Jilin's central and western regions, further mechanization of farming, cultivating and popularizing the use of improved seeds and disseminating the use of advanced farming techniques."
Jilin governor Han Changfu, said that through improved water conservation, land reclamation, cultivation of high-grade farmland, promotion of mechanization and popularization of new grain seeds, the province hopes to see its annual grain production capacity rise from the current 25 billion kg to 30 billion kg in five years.
Experts have expressed optimism for the average grain output per hectare of land to increase given sufficient irrigation. The State Council approved the program in early July.
Jilin has positioned itself as a pillar of the country's longstanding policy of maintaining 95 percent self-sufficiency in grain. The province hopes to become the country's fifth-biggest grain producer after Henan, Shandong, Jiangsu and Heilongjiang provinces.
Last year Jilin produced 17.8 million tons of corn.
According to Jilin Agricultural Development Commission statistics, of the 3.3 million hectares of land in the province, only 40 percent are drought resistant. Less than 10 percent is irrigated with water-conservation systems.
This meant that in 2006, grain output hit a record high of 27.2 billion kg, while in 2007 a drought caused output to drop to 25 billion kg.
Three water diversion projects will help ease the water shortage in the middle and western areas of the province, according to Wen Guozhi, deputy director of the Jilin Provincial Development and Reform Committee.
A national artificial rainfall demonstration zone will be constructed in Songhuajiang Valley, according to the plan. The project is expected to increase rainfall by 1 billion to 2 billion cubic meters annually through weather modification.
This year, China expects the fifth consecutive bumper harvest of 510 billion kg of grain, according to the Ministry of Agriculture.