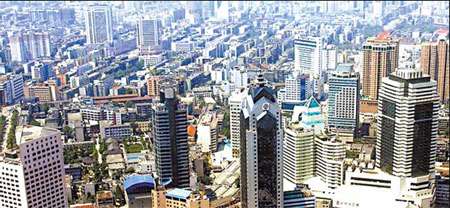 An aerial view of Chengdu.
CHENGDU -- Deng Gongli, chief of the tourism administration in this capital of southwest China's Sichuan province, recalls the time he phoned the chief of the Harbin tourism administration in Northeast China's Heilongjiang province about a month after the May 12 earthquake.
Deng asked the Harbin chief, who is his friend, to organize several tour groups to visit his city to spur the local tourism sector affected by the magnitude-8 earthquake.
The Harbin chief was surprised Deng would ask him to organize tourists to a city 92 km from the quake's epicenter.
Without any knowledge of the real situation in Chengdu, the Harbin chief had been told that wives asked their husbands who had to go to Chengdu on business to bring biscuits, instant noodles and mineral water because they believed the city was battered by the quake and did not have enough food or clean water.
He was surprised that Deng was still working and asked: "Are you calling from a tent?"
Actually, Chengdu was unscathed in the devastating quake which killed nearly 70,000 people. Only Dujiangyan, Pengzhou and Chongzhou, three cities under its administration, were hit.
A month later, cinemas, museums, libraries, concert halls, restaurants and bars in Chengdu resumed normal operations. The average occupancy rate of Chengdu's star hotels rose to 60 percent and or even 80 percent, higher than before the quake, Deng said.
At the same time, the city's real estate, tourism, investment and retail sector all picked up and resumed normalcy.
Since June 14, tour groups from Guiyang, capital of southwest China's Guizhou province and Taiwan province as well as the Netherlands and other European countries have visited Chengdu.
Deng's administration has signed contracts with many travel agencies in different parts of the country to bring more visitors, he said.
Neil Kelsall, a tour leader from Manchester, Britain, told China Daily members of his group felt Chengdu very safe.
Kelsall took nearly 20 tourists from Britain to visit the Chengdu Research Center of Giant Panda Breeding in late July.
In June business picked up at retailers in Chengdu such as Wangfujing Department Store, Ito-Yokado, Suning Appliance and Gome Electrical Appliances Holdings, fetching between 80 and 90 percent of their sales before the quake.
A month after the quake, 23 foreign-funded enterprises had registered in Chengdu to investment nearly $134 million.
Only eight days after the quake, Tencent Inc, a popular Internet service portal in the country, signed a contract involving an investment of 550 million yuan to set up its R&D centre in Chengdu for customer service, interactive entertainment and data processing.
Tencent was the first to sign an investment agreement with Chengdu after the quake. "The decision is in line with the development strategy of Tencent," said Chen Yidan, Tencent CEO.
"This is also a discreet decision," Chen continued, noting the large investment is the result of objective and scientific study over a long time. He added that the company has consulted many seismic researchers, who have assured them with scientific data that Chengdu lies outside the seismic belt and is safe.
With an investment of $525 million, Intel's encapsulation plant in Chengdu has a staff of some 1,600 people.
During his recent visit to Chengdu on June 22, Intel's Chairman Craig Barrett said his company's investment in the country would not change. Intel is planning to hire another 1,000 employees in Chengdu.
By July 1, enterprises from outside Chengdu had signed contracts worth more than 65 billion yuan with the city, Zhou said.
(China Daily 08/08/2008 page15)