Shenyang -- Fourteen-year-old Tao Chao never imagined she would one day be able to smile like her classmates. She has a cleft lip.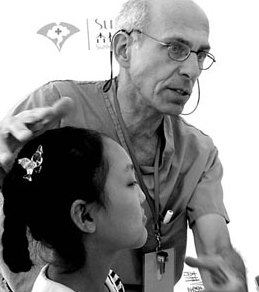 American doctor Daniel Allen examines a young girl who suffers from a cleft lip and palate at the Shenyang Sunline Angel Hospital August 5, 2008. 
But last week, all that changed after she received corrective surgery from doctors belonging to a project sponsored by the Sunline Angel Hospital and the Agape Foundation.
"They changed not only her face but also her fate. My daughter will now live a normal life like other kids," Gao Xiu'e, Tao's mother, said.
Tao was one of 150 children in Shenyang, capital of Liaoning province, to receive the surgery last week.
Forty-two doctors, nurses and volunteers from the US and their Chinese counterparts are taking part in the 10-day project.
"We are very satisfied with our partner, Sunline. The hospital provides us with all-round support from facilities to nurses," Ron Brown, founder of the Agape Foundation, said.
"This is our first time working together, and I want to come back in the future," he said.
In the past seven years, the foundation has treated more than 10,000 low-income families.
"The project is a great success. We work well with Agape," Shi Lingzhi, president of Sunline, said.
Sunline, founded in 1996, is the first plastics and aesthetics hospital in Shenyang.
"I am happy the foundation provides us an opportunity to help others," Sunline doctor, Li Jian, said.
The program has drawn wide attention for its achievements. Shi said another American foundation had contacted her about cooperation next year.
"My heart is filled with the smiles and happiness of children and their parents. The operation is minor, but it can change a child's life," he said.