GUANGZHOU: Firms that employ foreigners without work permits could face fines of up to 50,000 yuan ($7,300), the provincial public security bureau said August 4, 2008.
Many companies in Guangdong province seek to employ people from Africa, the Middle East, Vietnam and Myanmar because of low wages.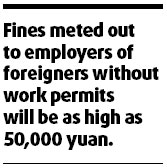 The exit and entry department of the provincial bureau of public security said it planned to set up a database foreign visas, departures and entries.
The move is targeted at curbing the growth in foreign workers and crime, Nanfang Daily reported yesterday.
Guangdong police told China Daily that the employment of foreign workers without permits had been rising rapidly in recent years.
Nanfang Daily said local companies have been told to strictly abide by relevant Chinese laws and regulations on the employment of foreigners.
"Fines meted out to employers of foreigners without work permits will be as high as 50,000 yuan," the paper said.
Employers will also have to bear the cost of repatriating the illegal workers.
In April, police in Zhuhai discovered a company had hired 62 Vietnamese workers without proper documents. The company was fined 45,000 yuan.
Guangzhou Daily said authorities in Zhuhai had investigated 18 such cases in the past year. A total of 170 Vietnamese were found without work permits.
Guangdong, as a leader in the nation's reform and opening up campaign, is a top employer of foreigners, but their illegal numbers have also been on the rise, the paper said.
Last year, Guangdong police investigated 7,940 cases involving foreigners suspected of illegal immigration, residence, employment, and doing business without approved documents.
Last month, police discovered three companies in a premium office building in the city's busy Huangshi Road were employing foreigners without permission.
Zhang Jie, dean of the school of economics of Jinan University, said the number of foreigners who work in Guangdong will continue to grow because of demand.
Most of them are hardworking and demand relatively low wages.
"Guangdong is unable to shut down or move out all of its labor-intensive companies in the near future; that is why foreign workers are popular," Zhang said.