BEIJING - Beijing metro commuters will face even tighter security checks from Thursday when subway passengers will have to submit all bags for screening.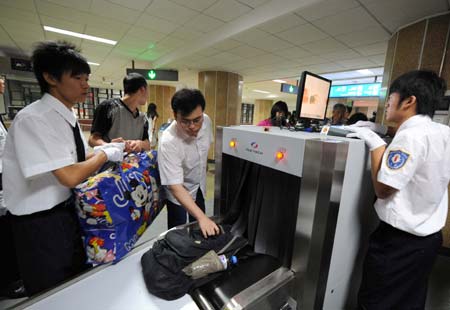 A passenger picks up his bag after it was put through a security screener inside a Beijing subway station June 29, 2008. [Xinhua]
Even small handbags must go through x-ray machines or portable scanners, the subway operators announced Wednesday.
Related readings:


 Beijing to step up Tian'anmen security check


 Bus security tightens up from tomorrow


 Passengers scuffle with security staff after delays


 Security for Olympic equestrian solid: Donald Tsang
Those who refused checks could be barred from the subway and further refusal to cooperate could incur penalties, the Beijing Mass Transit Railway Operation Co Ltd said in a statement on its website.
Beijing started the three-month security campaign on June 29 in an effort to keep dangerous articles, including guns, ammunition, knives, explosives, flammable and radioactive materials, and toxic chemicals, out of the metro system to ensure security during the Olympics and Paralympics.
Over the past month, only large bags were required for checks.
More than 3,400 forbidden items had been detected and some 2,000 people had been barred since the measures were imposed. Of all the confiscated materials, 90 percent were flammable such as paint.
Most of the passengers had shown understanding and cooperation although the measures brought inconvenience, said the company.
Metro operators suggested people give up unnecessary bags to save queuing time.
Under Chinese law, passengers are banned from carrying dangerous materials on public transport, including buses, subways, trains and aircraft. Offenders can be detained from five to 15 days.
Beijing, the host for the Olympics from August 8 to 24 and the Paralympics from September 6 to 17, has eight subway lines with 200 km of track.