NANCHANG -- More than 2,000 people in east China's Jiangxi Province were forced to evacuate after Fung Wong, the eighth tropical storm to hit China this year, arrived late on Tuesday.
The evacuees were in Ganzhou, Fuzhou and Ji'an cities, according to Jiangxi Provincial Flood Control and Drought Relief headquarters.
Fung Wong, which weakened into tropical storm early on Tuesday after making landfall in Fuqing, Fujian Province, late on Monday, moved into Jiangxi via Qianshan, a county in Jiangxi, at 8:20 p.m. on Tuesday.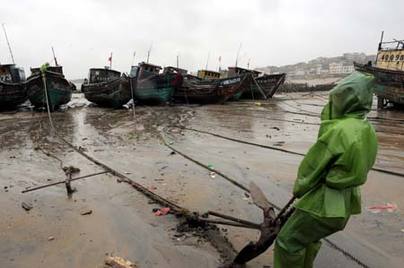 A man fixes a fishing boat before Typhoon Fung Wong makes landfall in Putian City, East China's Fujian Province, July 28, 2008. [Xinhua]
A weather station in Mucun Village, Jinggangshan City, monitored the highest daily rainfall of 157 mm.
Fung Wong, however, did have one good aspect: a respite to a heatwave that had roasted Jiangxi since July 22.
On Wednesday, temperatures in most areas of Jiangxi fell below 30 degrees Celsius. Except Lushan and Jinggangshan, the rest of Jiangxi all had temperature above 35 degrees Celsius on July 26, and it was the hottest in Wuning, with the temperature at 40.2 degrees Celsius, on the same day.  The weather remained almost the same the next day, but the highest temperature was monitored at 40.8 degrees Celsius in Xiushui County.
Weather experts predicted Fung Wong would leave Jiangxi on Wednesday but the rainy weather would stay until Saturday.
To prevent emergencies, the shipping administrative department of Jiangxi Provincial Communications Bureau on Tuesday ordered a suspension of all water-borne business, including sightseeing,  and all boats should stay in port.
Shandong Provincial Meteorological Observatory predicted there will be heavy rains in the Shandong Peninsula from late Wednesday through to Friday, plus strong breezes, due to the impact of Fung Wong.
The tourism authority in Qingdao, a co-host city of the Beijing Olympic Games, asked all travel agencies not to organize tour groups to seaside scenic sites during the period to avoid Fung Wong.
The impact of Fung Wong was also felt in the Yangtze River Estuary. Shanghai Maritime Affairs Bureau on Wednesday disclosed more than 170 ships stayed at the ports on Yangtze River near Shanghai to avoid strong winds, while 17 vessels were swept out of moorage by strong winds.
The area worst hit by Fung Wong was Fujian. Fujian Provincial Flood Control and Drought Relief Headquarters on Wednesday said the economic losses of Fung Wong were 1 billion yuan (about US$142 million).