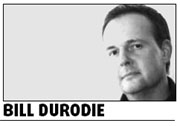 Last December, a full seven years after the last summit of EU and African leaders held in Cairo in 2000, the long postponed EU-Africa summit finally took place again in Lisbon.
Europe is Africa's single largest trading partner, so you might imagine such get-togethers are fairly important and ought to occur frequently. But the real trigger behind this delayed meeting was China.
In November 2006, Beijing hosted a lavish Forum for China-Africa Cooperation which set pundits' tongues wagging in the West. China is now variously portrayed either as an economic competitor in Africa, or as its oppressor.
In March of this year, a well-known magazine ran a photo-montage front page of a man wearing a pith helmet, riding on a camel and carrying China's national flag. The magazine explored China's supposed new role and impact in Africa.
The Beijing forum had hosted 48 heads of state from Africa and signed billions of dollars worth of deals, setting a target of $100 billion of trade with Africa by 2010 which, judging by what usually happens when the Chinese government sets a target, should be met well ahead of schedule.
The EU-Africa summit, on the other hand, hastily convened in the aftermath of Beijing, simply led to a further meeting in Brussels on April 1 this year in order to make the partnership agreed in Lisbon a reality . So presumably, the Lisbon meeting had just been talks about having future talks rather than being decisive in any way.
Despite all of this, several African leaders arrived in Tokyo early this month, during the G8 summit of the world's richest powers, to demand that the promises of aid, debt relief and trade, that had been made three years earlier at the much-publicized Gleneagles summit, should be seen through.
China primarily imports oil and other resources from Africa and exports manufactured goods to it. But nothing is as simple as it seems.
Its state-owned and accordingly state-subsidized firms, usually invest overseas in partnership with Western firms or local companies. Then, rather than siphoning the oil back home, this is sold on the open market, which means that in effect, Chinese taxpayers are currently subsidizing world oil prices - not something you get to hear about much.
China also provides finance to Africa in the form of direct investment or loans which the West is not too keen on, in view of their attempts - unfulfilled as we now know - to be seen to be reducing the debt burden in Africa.
The Industrial and Commercial Bank of China has a 20 percent stake in Africa's largest lender - Standard Bank of South Africa. In October 2007 Chinese businesses signed up to providing $5-10 billion to the Democratic Republic of Congo to rebuild infrastructure and develop mines there. Chinese construction firms handle 20 percent of Africa's construction market.
In fact, construction projects have doubled in a few years right across Africa - a fact that would not have been possible without China. But everybody benefits from this, especially the EU and the US. The EU has a far greater stake - 50 percent in African construction.
The real truth, as the World Bank noted again last month, is that Africa - not China is probably the single greatest investment opportunity on earth at the moment, for those who understand that taking high risks can offer high returns. There are now 15 stock markets in Africa, some achieving returns as great as 30 percent this year already.
Africa has reversed six decades of decline in its share of global trade. Most countries there are growing at higher rates than the world economy and are politically and socially stable. Ghana, for instance, has expanded its economy by 50 percent over the last 10 years.
China's increasing influence in Africa is all too often discussed without regard to the new situation there. Africa is an opportunity and Chinese investment there is a consequence of this, not the cause.
Countries that have been growing at 5-6 percent a year for a decade need new roads, power stations and manufactured goods. In Ghana, Chinese loans are facilitating the construction of a much-needed hydro-electric power plant as - despite the myth of China's sole interest being oil - Ghana is a net oil importer that exports goods to Europe.
The huge investments, mentioned earlier, into the Democratic Republic of Congo, will help build 3,840 km of roads, 3,200 km of railway lines, 32 hospitals, 145 health centers and two universities.
Unlike others in the region, the Chinese have a reputation for paying promptly and well. Nor are their interests in the Congo particularly new. In the 1970s they built a parliament building there and in the 1990s they built the national stadium.
Chinese trade and investment merely mirrors Western patterns of activity but on a smaller scale and in only a handful of African countries. Notably, the Swiss and the Belgians operate significant concerns in the Congo too, and the Chinese stake in the copper industry there is one-third the size of that owned by the US giant - Freeport.
But it is not just Western governments that the Chinese appear to be upsetting. For years Western NGOs have sought to teach their domestic audiences that all that is required in Africa is small-scale and sustainable development.
Oxfam continues to encourage people to buy Africans a goat, some seed, condoms, a toilet, or even dung as a fertilizer for Christmas. And, of course, all of this comes with a great deal of moral hectoring about aids and the need for population control.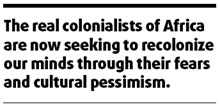 No wonder the Chinese, with their no strings attached investment policies have been so welcomed across the continent. Chinese loans come with few demands, benchmark conditions, requirements for risk audits and environmental impact assessments. But they do get things done.
China itself is still a developing country with a population currently moving from rural poverty into urban squalor. To be middle class there means to earn about 1,500 pounds ($3,008) a year. This emerging economy may not translate into world political power as we know it.
China is Africa's third largest trading partner behind the EU and the US. In investment terms it stands lower still. Only countries that have been ostracized by the West, such as Sudan, have China as their main commercial partner, but others, such as India, do business there too.
Indeed, China's presence in Sudan is a sign of its weakness, rather than its strength. Other oil-producing parts of Africa, such as Nigeria, have already been carved up by the US and the EU.
China's 20 percent stake in Standard Bank was because until the recent credit crunch - it was unable to buy into, and indeed was barred from acquiring, stakes in European and American concerns.
China has been left alone with markets thought of as too small by Western investors. So, for example, it produces small cars for the African market that used to rely on second-hand European models.
China's role in Sudan has, of course, been criticized, particularly by Western NGOs and liberals who have not appreciated their own ability to boss the Sudanese around being undermined, and who like to paint the current conflict there in simple black and white terms.
If anything, China's influence has been beneficial in Western terms, as it has brought pressure to bear on the Khartoum government to end the conflict, it has supported UN intervention in Darfur and contributed several hundred engineers to the UN African Union Mission in Darfur.
Prior to that embarrassed that this was shaping up as yet another Muslim versus Christian conflict that they were taking sides in the Western powers had been reduced to fighting the war by proxy funding African Union troops to deal with the situation for them or, effectively, hiring black labor to do their dirty work.
Of course, China's influence on the continent will not be entirely benign. Of course, there will be problems and elements of exploitation there. But it is a sign of the Western imagination's inability to view Africans as capable of dealing with their own problems and the West's obsession with viewing China as malign - that things are presented the way they are.
In 2006 the government of Gabon stopped the Chinese oil firm SINOPEC from drilling for the lack of necessary permits. More recently, Chinese mines in Zambia have suffered from considerable labor unrest.
These are relations between developing countries that only the people on the ground there are in a position to sort out. Meanwhile, the real colonialists of Africa, the old European powers, having lost their sense of mission for the world, are now seeking to recolonize our minds through their fears and cultural pessimism.
The author is an associate fellow at the International Security Program, The Royal Institute of International Affairs