China and Russia Monday signed an agreement to delineate their border around two islands, paving the way for the return of 174 sq km of territory to China.
The move also marked "the end of demarcation work of the 4,300-km Sino-Russian boundary", Foreign Minister Yang Jiechi said during a joint press conference after signing the document with his visiting Russian counterpart Sergey Lavrov.
The boundary between the two is the longest in the world.
"Sino-Russian border negotiations have gone through more than 40 years It (the end) is a hard-won result," Yang said.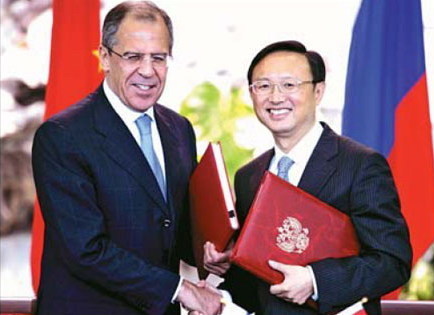 Foreign Minister Yang Jiechi exchanges documents with visiting Russian Minister of Foreign Affairs Sergei Lavrow in Beijing July 21, 2008. [China Daily]
The areas to be returned - the Yinlong Island (Tarabarov Island) and half of the Heixiazi Island (Bolshoi Ussuriysky Island) - are territories the former Soviet Union occupied during a 1929 border skirmish.
They are located at the confluence of the Heilongjiang and Wusulijiang rivers that serve as a natural border between the two countries.
Following years of negotiations, the two sides signed an agreement for the return of the areas in October 2004 when Vladimir Putin, then Russian President visited Beijing.
After that, the two neighbors spent three years of negotiations on delineation.
Related readings:


 China, Russia sign border agreement


 Russia to return Chinese land after 40 years of talks


 Leaders in agreement over border demarcation
"Both sides have compromised in consideration of long-term interests," Lavrov said.
The demarcation has been strictly conducted according to international law, he said.
The two nations will complete their own procedures for approval of the agreement as soon as possible, the Foreign Ministry said.
Earlier this month, a senior Russian security official said Russia would in August relinquish control of the islands.
Some media, however, predicted that this would happen later as the Olympics would draw much attention of the Chinese government.
Now the two sides have created "all the legal conditions needed" to make the Sino-Russian border a link of stability and cooperation, Lavrov said.
People from all circles will soon feel the benefits brought by the agreement, he said.
The cooperative attitude reflected by both sides in the demarcation work proves that "any bilateral problem between the two, even extremely complex ones, can be settled based on equality, mutual respect and interests", Lavrov said.
The two ministers also discussed details of "meetings of top leaders of the two countries" in the remaining part of this year, Lavrov said.
He said the next one will be Russian Premier Putin's visit to Beijing to attend the opening ceremony of the Olympics next month.
Lavrov also held talks with President Hu Jintao and Premier Wen Jiabao Monday and will leave Beijing this afternoon.