At least 5.59 million students will graduate from colleges this year, 13 percent more than last year, the Ministry of Education has said.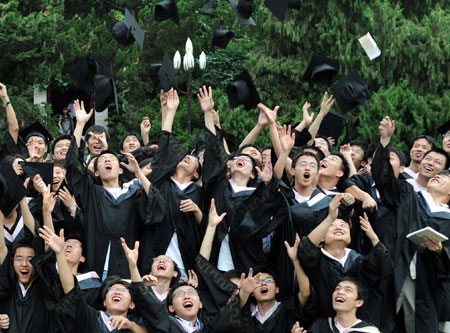 College graduates, clad in academic gowns, throw out their caps for a commencement photo in Nanjing Unvisity, East China's Jiangsu Province, June 20, 2008. Latest statistics show that the number of college graduates in Jiangsu climbed to 427,000 in 2008, some 72,000 more than last year. [Xinhua]
They face unprecedented pressure in the job market as about 700,000 graduates, who could not find work last year will compete with them for employment, the People's Daily website has quoted Yin Weimin, minister of human resources and social security, as saying.
But this could mean a windfall of graduates in rural areas and small towns.
About 20,000 graduates have signed up to work in the countryside, in fields such as education, agriculture, and poverty-alleviation. And many others, including 200 from Tsinghua University, have opted to work in the regions hit by the May 12 quake.
They include Sichuan, Shaanxi and Gansu provinces and Chongqing municipality.
College graduates are encouraged to work in western and rural areas where many jobs are available, Ministry of Education spokesman Wang Xuming said.
Those who have worked in rural areas for two years enjoy favorable treatment in recruitment for government organs and State enterprises, and get bonus points if they take the civil service exams.
"We encourage college graduates to start their own business, too, and get preferential treatment," said Wang Yadong, deputy director of the training and employment department of the Ministry of Human Resources and Social Security.
Such graduates enjoy a 20-percent income tax cut for start-ups, and the government offers small loans to them to start a business too.
Xinhua contributed to the story