Sichuan welcomes the support of more multinational as losses and reconstruction costs are expected to exceed 1 trillion yuan ($146 billion), Huang Xiaoxiang, vice-governor of the quake-hit province, said.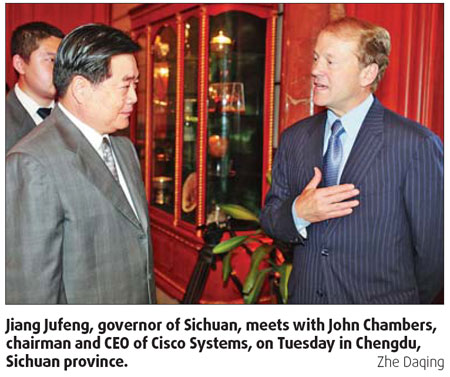 More than 4.5 million houses and apartments are not habitable, 10 million people are homeless, and 372,000 are jobless, he told a delegation of US officials, top business executives, and non-governmental organization leaders at a meeting in Chengdu on Tuesday.
"As more losses are determined, the cost of reconstruction is also going to be huge, the total could be about 1 trillion yuan," he said.
Education and medical services are two main areas. The province will need 50.7 billion yuan for schools and 25.8 billion yuan for healthcare facilities, Huang said.
He told the US visitors that the province appreciated foreign help in quake relief and reconstruction, and is looking for more multinationals to take an active part.
John Chambers, chairman and CEO of US network giant Cisco Systems, said his company would make the largest ever donation in its history.
The Sichuan government and Cisco signed a memorandum of understanding in which Cisco will commit 300 million yuan in cash, equipment, and services over a three-year period of reconstruction in Sichuan. It is the largest donation from a multinational.
The company had earlier donated 17 million yuan to China for disaster relief and reconstruction.
"As we witnessed firsthand the unimaginable destruction and spoke with those who have lost so much, it was impossible not to feel an urgency to help in the rebuilding and sustainability," Chambers told Jiang Jufeng, governor of Sichuan.
Sichuan province and Cisco will set up a joint committee to decide where the donations will go, but the main focus will be on education and healthcare.
Cisco said it will also consider creating more jobs to help Sichuan. It may expand its operations and outsource services to firms in the province.
Chambers told Sichuan Daily after visiting the quake-hit regions, that he was deeply impressed by the adaptability, optimism and resilience of the people.
"A 4-year-old girl has not spoken a word following the quake, but from her eyes I could tell she was attentive to everything around her.
"I asked her, 'When you begin to speak, can you teach me some Chinese'?" Chambers told Sichuan Daily.
"She raised her eyebrows and hands and said bye-bye in Chinese to me. From her, I see the resilience of Sichuan's future," he said.
It was Chambers second visit to China within months.