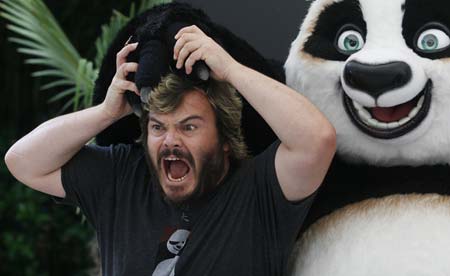 US actor Jack Black poses during a photocall to promote his animated film "Kung Fu Panda" in Madrid June 24, 2008. [Agencies]
PrintMailKung Fu Panda, the Dreamworks animated feature, has proved a Chinese family favorite since debuting nationwide last Friday. Although the film was postponed from general release in Sichuan province, ticket sales for the film on its opening day nevertheless exceeded 10 million yuan ($1.4 million).
Audiences eager to observe the Hollywood take on the panda image were obviously not disappointed. Many said they enjoyed the movie and that they thought it represented Chinese values. Perhaps most appealing about Kung Fu Panda is that the whole family learns valuable life lessons while collapsing in mirth as plump cuddly Po attempts martial arts perfection.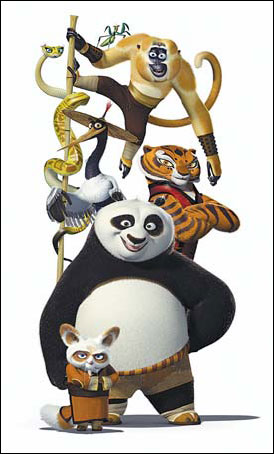 "I think it's perfect viewing for family, friends and young couples. The plot holds your attention throughout ," says a young man surnamed Mao, who went to watch the film last weekend. "After all, everyone loves an anti-hero."
The film, featuring the voices of Jack Black, Lucy Liu, Angelina Jolie, Dustin Hoffman and Jackie Chan, is set in ancient China, and Po the panda is its ostensibly unlikely hero.
"The idea of combining Chinese kungfu and pandas - the national treasure - is impressively fresh," says Li Xiaolin, after watching the film with her son, adding, "It has poignant as well as hilarious moments."
Kung Fu Panda emblazoned T-shirts, bags, caps and toys, meanwhile, sold like hot-cakes at cinemas; a sequel is undoubtedly on the cards.
The State Administration of Radio, Film and Television postponed the movie's release in Sichuan as a gesture of respect to earthquake survivors; releasing a comedy only weeks after nearly 70,000 lives had been lost in the quake would have been an insensitive move, according to Xinhua News Agency. The feature went on release last Sunday in Chengdu as well as earthquake-struck cities Mianyang, Deyang and Dujiangyan. It raked in 1 million yuan on its first day in Chengdu, marking the provincial capital's new box office high for an animated feature.
Valuable advice is implicit in the film's plot, action sequences and depiction of power. There are frequent references to a secret ingredient - the metaphor for self-confidence - whereby hard work and belief in oneself can make dreams into reality no matter what may come along.
"It's a good film for children, because it's educative without being boring," says Chen Li, a primary school teacher.
But not everyone is a Kung Fu Panda fan. Performance artist Zhao Bandi, famous for the trademark toy panda that accompanies him in photographs in which he makes artistic statements about the environment, has called for a boycott of the film, and has begun an Internet debate on the topic. Zhao accuses the film of "exploiting China's 'national treasure' and its martial arts." Responding netizens both praise and criticize the film, but many see no reason to boycott it.
"The film is a salute to Chinese kungfu," says John Stevenson, one of the film's directors. He has no further comment on the debut, but says he has been a big fan of Chinese kungfu culture since childhood, and has been thinking about making a kungfu film for years. His combination of the two most famous Chinese cultural symbols, kungfu and the panda, is his personal tribute to China.
The film has grossed close to $120 million in the US since its premiere on June 6. It is on release in China till the end of July.