Man used beer bottles to make mom comfortable
(China Daily)
Updated: 2008-06-04 10:26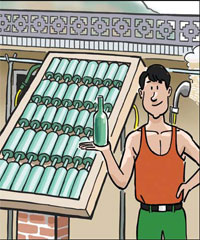 A farmer in Mizhi county, Shaanxi province, used beer bottles to make a solar water-heating device so his elderly mother could take a warm bath every day.
Ma Yanjun, 42, a resident of a remote mountainous area where farmers aren't even afforded the necessity of bathing after a long day working in the field, collected dozens of beer bottles and improvised the water-heating device in 2006.
Ma's device not only gifted his 73-year-old mother a bath every day, it also attracted the envy of 20 local farmers, who recruited Ma to help them build their own.
(Xi'an Evening News)