Qingdao -- Republic of Korea (ROK) President Lee Myung-bak made his first visit to Qingdao in east China's Shandong province on Thursday afternoon.
Shandong governor Jiang Daming welcomed Lee at the Qingdao Liuting airport.
"President Lee's visit to Qingdao adds momentum to exchange and cooperation between both sides," said Jiang Yikang, secretary of the CPC Shandong provincial committee, in a meeting with Lee.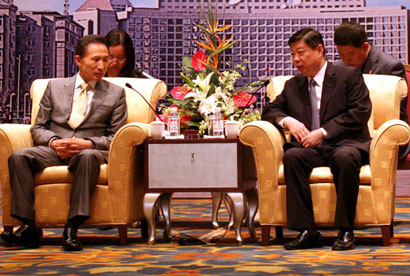 Jiang Yikang (R), secretary of the Communist Party of China's Shandong provincial committee, meets with visiting ROK President Lee Myung-bak in Qingdao, East China's Shandong Province, May 29, 2008. [chinadaily.com.cn]
Shandong will further strengthen cooperation with the ROK in culture, tourism, economy and trade, and the exchange between local governments of both sides, Jiang added.
Lee said, "Ninety percent of Chinese migrants in the ROK come from Shandong, and most South Korean enterprises and migrants in China concentrate in Shandong.
They play an active role in boosting both sides' economic exchanges, which will be further enhanced in future."
The statistics from the ROK consulate in Qingdao shows that it is home to 8,000 South Korean small and medium enterprises. Qingdao is also a major investment destination of South Korean enterprises in China.
The number of South Koreans here exceeds 100,000.
"The ROK is the biggest trade partner with Shandong province," said Jiang.
According to the 2007 statistics from the Shandong Foreign Trade and Economic Cooperation Bureau, the province's total value of imports and exports with the ROK was $21.687 billion, accounting for 20 percent of the total value of all imports and exports in the province.
By last year, a cumulative total of 18,000 South Korean-invested-projects have operated in Shandong with the investment amounting to $23.55 billion, accounting for 55 percent of South Korea's total investment in China.
On May 30, Lee will visit Haier Group and South Korean enterprises in Qingdao.
Lee's four-day visit to China began in Beijing on May 27.